What Does New Excel 2010 Bring for Accountants?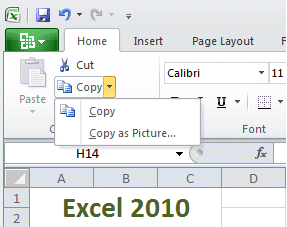 Microsoft office 2010 Beta has been released for public together with Microsoft Exchange 2010, Microsoft SharePoint Server 2010, Microsoft Visio 2010 and Microsoft Project 2010. Microsoft Excel is most popular to accountants among the other family member [i.e., Ms. Outlook, Ms. Words, Ms. Access and PowerPoint]. To me, as a controller, Microsoft Excel is a must application in any transactions, analysis, anywhere, anytime. The new excel 2010 beta, sure, it is a must watch until it is fully released in June 2010; How's the new interface? What is the new feature? Is there any [and more powerful] functions in it? How is it compare to Microsoft office 2003 and 2007 [shame no necessary to admit that many of us still use Ms office 2003 because of the shocking new ribbon menu on the 2007 version). Ideally, the new version, and it is, Excel 2010 has received updates to features and improved ease of use.
Inside Excel 2010, the menus and core features have minor modifications. Some subtle but significant features are described in this post. This article highlights the features in the new versions of Excel 2010 specifically that is likely to be most important to CPAs and accountants in general. It is based on the technical preview version of Office 2010, which Microsoft provided before the public beta version was released. Keep in mind that Microsoft might make minor changes to the software before the official release date. Follow on…
According the Microsoft Corp. official press release;
Microsoft Excel 2010 makes it possible to analyze, manage, and share information in more ways than ever before, helping you make better, smarter decisions. New data analysis and visualization tools help you track and highlight important data trends. Easily upload your files to the Web and work simultaneously with others online, access important data on the go from almost any Web browser. Whether you're producing financial reports or managing personal expenses, Excel 2010 gives user more efficiency and flexibility to accomplish the goals.
New Sparklines on the Chart
With Excel 2010, you are able create data charts in a single cell. With Sparklines, a new feature in Excel 2010, you can create small charts in a single cell to quickly discover patterns in your data. It's a quick and easy way to highlight important data trends such as seasonal increases or decreases, saving you time.
FivotTable with Slicer Capability, New Contex Menu and PowerPivot
Excel 2010 delivers a new and exciting filter enhancement for your PivotTables. The Slicer feature provides you with a rich visualization of your PivotTable view so you can dynamically segment and filter the data to display precisely what you need. With the new search filter, you can spend less time sifting through large data sets in your tables and PivotTable views, and more time analyzing. For example, you can have a very friendly user interface that allows selection of data from a large table. Or you can use the Slicer to filter data on multiple attributes at the same time. For example, you could select multiple parameters such as multiple quarters and company names.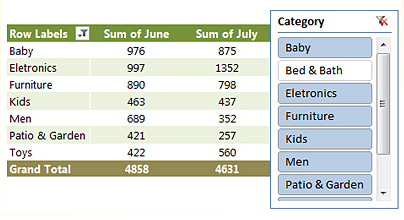 Excel 2010 has changes in the right-click context menus compared to Excel 2007 in both general use and PivotTable functions. These subtle changes make Office 2010 easier and faster to use—again requiring fewer steps to get to various tasks.
The PowerPivot for Excel add-in [a free download], provides groundbreaking technology such as streamlined integration of data from multiple sources and lightning-fast manipulation of large data sets with up to millions of rows. Business users can effortlessly publish and share analysis through Microsoft SharePoint Server 2010, and have other users enjoy the same Slicer, PivotTable, and fast-query capabilities when working on their Excel Services report.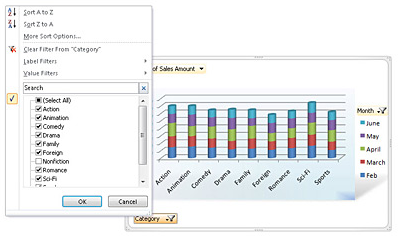 You can also take advantage of more interactive and dynamic PivotCharts. Quickly gather more insights with the ability to display different data views directly in a PivotChart, independent of PivotTable views, to analyze and capture the most compelling picture of numbers.
What-If Analysis
This new menu item allows manual changes of data in a PivotTable to perform a What-If Analysis. Values that are changed are used in the PivotTable calculations. It allows you to manipulate PivotTables faster with more functionality exposed so you don't have to hunt for what to do. As mentioned previously, since Office 2003, several functions existed in menus that were difficult to find (that is, calculate fields as % of X) because they lived in a right-click property inside the context menus of a PivotTable or a regular table. Now there is just a menu option so you select them and add them easily.
More Sophisticated Data Presentation
With Excel 2010, users are able to add more sophistication to their data presentations. Conditional Formatting in Excel 2010 gives them more control over styles and icons, improved data bars, and the ability to highlight specific items in a few clicks. They also can display data bars for negative values to more accurately illustrate your data visuals.
Menu Accessibility
Excel 2010 simplifies how you access features. The new Microsoft Office Backstage™ view replaces the traditional File menu to let you save, share, print, and publish your spreadsheets with just a few clicks. And, with the improved Ribbon, you can access your favorite commands even more quickly by customizing tabs or creating your own to personalize the experience to your work style. You can also access your spreadsheets from virtually anywhere. Post your spreadsheets online and then access, view, and edit wherever from just about any computer or even your Windows phone.
How to Move on to the Excel 2010?
The learning curve from Excel 2007 [and Office 2007 in general] to Excel 2010 is fairly gentle, but if you are on Office 2003 or an earlier version, you will need to learn how to navigate the Ribbon. Many of the functions and design elements introduced in Excel 2007 remain in the new-generation product. The Office 2010 general user interface still includes the Ribbon, Tabs, Contextual Tabs, the Mini Toolbar, Galleries and Live Preview. Modified in Office 2010 are the Office Button and the ability to customize the Ribbon.
Familiarizing yourself with the ribbon menu in Excel 2010 getting past the aggravation stage, but once you do, you'll never want to go back to the old interface. You may dedicate schedule training time just to focus on the interface and usability issues to minimize your learning curve on the new products. Users who are already on Excel 2007 should require less than two hours to adjust to Excel 2010.
Are you looking for easy accounting tutorial? Established since 2007, Accounting-Financial-Tax.com hosts more than 1300 articles (still growing), and has helped millions accounting student, teacher, junior accountants and small business owners, worldwide.