Multinational Foreign Exchange Management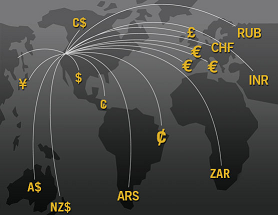 Foreign exchange management and international cash management share the same basic goals, centralization and concentration. Multinational firm's foreign affiliates and subsidiaries possess their own individual currencies of cash flow (functional currency). Many of these affiliates are often not equipped, both in staffing and expertise, to effectively manage the currency transactions and risks which arise. The consensus in industry today is that the international treasury of the parent company, through centralization, can provide value-added processing and expertise to the subsidiary without absolving the subsidiary from responsibility of aiding in the effective management of currency exposures. The international treasury is a combination internal consultant, banker, and parent.
Concentration is the effective use of techniques for handling the everyday and not so everyday currency transaction and exposure management needs of the firm as a whole. Techniques such as netting of cross-border currency cash flows can significantly reduce the frequency of transactions, allowing fewer and larger individual currency purchases and hedge purchases. The economies of scale are appreciable, and the increased control results in better company-wide reporting, forecasting, and subsequent management of cash flows by currency in the short to medium term.
The components to the design and implementation of an international currency management program in the multinational involves:
Establishing risk management guidelines (exposure identification, list of authorized instruments, required minimum or maximum hedge coverage).
Separation of front-office and back-office roles, responsibilities, and personnel.
Position monitoring and performance measurement
Treasury today is expected to take a much more proactive role in the management of the firm's multinational cash flows. This concerns not only the more efficient use of cash as a whole, but in the management of the currency of denomination of those cash flows within the multinational—all in the context of adding value to the internal and external customer. Once the currency risk management system within the multinational is designed, management and control of operations is critical to its success.
Many of the derivative-related fiascos in recent years are traceable to nonexistent or inadequate specification of procedures and controls or simply management discipline in the implementation of risk management. Recent surveys indicate that still over 20 percent of major multinationals have no formal controls over treasury operations.
Risk Management Guidelines
Senior management of the firm, from the treasurer's office to the chief financial officer, to the senior management group, to board and audit committee, must establish clear and simple guidelines by which currency risk management must abide.
These guidelines should include the requirements for exposure identification, allowable instruments for use, and required exposure coverage. Exposure identification, the specification of which types of exposures are to be managed (backlogs, balance sheet-related, translation, economic exposures, foreign currency-denominated bids, anticipated exposures, etc.) is fundamental to control of a risk management program. By isolating what will and will not be the subject of hedging will effectively limit the scale of the exposure management program. A list of accepted financial instruments which treasury is authorized to use for risk management is also important to control of operations given the ever-growing list of second-generation risk management products, many of which have complex valuation and exposure profiles.
Even a short list today would need to determine the firm's policy toward the use of forwards, purchased options, written options, complex options, structured products, and straight interest rate swaps and cross-currency interest rate swaps.
Finally, the firm's risk management guidelines should address the desirability of any minimum or maximum exposure coverage, by exposure size (amount), or by percentage
required forward cover (e.g., 50% forward cover required on all booked exposures of $100,000 or more).
Front-Office/Back-Office Division
There is little debate among treasury managers worldwide that the one critical element to preventing risk management system failures is the separation of front office activities, the design and construction of currency-related activities (transactions, hedging strategies), and back-office activities, the booking and settlement of transactions and hedging activity. Many treasuries are now outsourcing their back-office activities as an additional physical and fiduciary step in preventing any conflict or system failure. Regardless of whether these duties are carried out by internal or external personnel, it is fundamental that the duties be carried out by different personnel, with different upward-reporting requirements in the organization, and be physically separated if at all possible.
Position Monitoring and Performance Measurement
Once a currency risk management program is under way, treasury must monitor all positions and periodically measure its own performance against some benchmark. Position monitoring is a critical issue facing many treasuries today as a result of the increased use of derivative products, many of which are difficult to mark-to-market on a frequent basis. This difficulty is a combination of the complexity of the instrument's valuation, and the timeliness and appropriateness of critical inputs, such as market volatilities, which are integral to the determination of true value. Position monitoring must be pursued in parallel for all outstanding (identified) exposures, and for the structured instruments, positions, or derivatives used for the hedging of such exposures.
For decentralized multinationals with foreign exchange risk management at the subsidiary or regional level, it is necessary for the parent and the subparent to be aware of these position values on a daily basis if possible. This requires the ability by treasury to mark-to-market all outstanding positions with contemporaneous market data. A number of major information vendors such as Reuters now provide the software and information linkages that allow constant mark-to-market valuation of all positions.
Performance measurement is a topic of some debate. Recent surveys indicate that nearly 30% of all treasuries do not consider performance measurement or other benchmarking activities as important. Given the increasing role of treasury, and its ability to leverage its activities for the betterment or detriment of the firm's overall profitability, performance measurement is critical to adequate controls and effective management. Foreign exchange benchmarks such as fully covered and no-cover indicators allow international treasury a continuing set of metrics which may be used to reevaluate hedging policies. Treasury, once accepted as a value-added component of the firm, must be held to similar standards and industry practices (best practices) if it is to truly contribute to the value of the business.
Read also:
Traditional and Multinational Treasury Management
Are you looking for easy accounting tutorial? Established since 2007, Accounting-Financial-Tax.com hosts more than 1300 articles (still growing), and has helped millions accounting student, teacher, junior accountants and small business owners, worldwide.