Business Profitability Analysis – Analisa Profitabilitas Usaha
On this "Business Profitability Analysis" post I will focus on the factors that determine the profitability of individual products and help us to improve the decisions that we make concerning these products. We will measure and evaluate the factors that determine the profitability of a product, including:
Product price
Unit volume sold
Costs, both fixed and variable
Profitability
Kita mulai pembahasan ini dengan melihat "Operating budget" Royal Bali Cemerlang dibawah ini. Royal Bali telah menghasilkan "Revenue", sudah ada pengeluran (spending), serta "Profit Targets". Jika kita lihat Operating Budget-nya, costs di broken-down menjadi beberapa major categories, juga dipisahkan menjadi fixed and variable cost.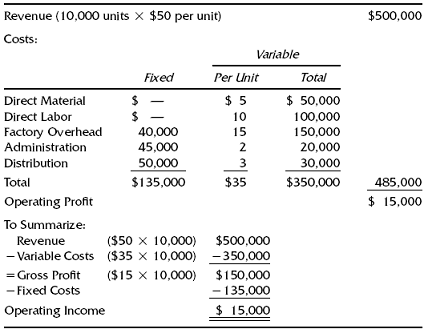 Mengidentifikasikan mana fixed cost dan mana variable cost sangat berguna untuk tujuan pengambilan keputusan yang effekctive. Untuk mempermudah dan menyedrhanakan perhitungan, maka kita asumsikan Royal Bali Cemerlang memiliki satu "business lines". Tetapi, jangan khawatir, contoh perhitungan dasar serta procedure analysis yang akan saya bahas ini sesungguhnya bisa diterapkan dan diberlakukan untuk "multi-product business". Untuk perusahaan jasa, meskipun beberapa terminology dan process-nya mungkin berbeda, tetapi conceptually, analysisnya adalah sama.
The analysis a manufacturing company develops is called a standard cost system. Ini adalah "accounting-oriented mechanism (mekanisme ber-orientasi accounting) yang mencoba untuk meng-identifikasi "how much the company will spend during the budget year under different volume assumptions (berapa perusahaan akan mengeluarkan dana dari budget sepanjang periode budget bersangkutan dengan berbagai asumsi volume yang berbeda-beda). In the financial services industries, this process is called a "functional cost analysis".
Setelah perusahaan di analysis menggunakan concept break-even point (BEP) analysis, selanjutnya kinerja sesungguhnya pun mulai di analysis. Ini sering disebut dengan "variance analysis". Variance analysis memberikan kemampuan bagi management untuk membandingkan antara "actual results Vs what was expected when the budget was prepared" (antara kenyataan dengan apa yang diharapkan ketika budget dibuat).
SIGN:
This both provides accountability and contributes to the learning process. It enables management to determine who is and who is not achieving the goals that the company has set. Also, budget assumptions and forecasts can be retroactively evaluated.
Chart of Accounts
Almost every company has a numerically based accounting system that assigns a series of code numbers to every department.
Saya rasa semua orang sudah tahu apa itu chart account. Yang mungkin belum disadari adalah, kegunaan (manfaat) dari chart account ini. Chart account, disamping untuk tujuan "GAAP compliance" juga sangat membantu di dalam melakukan berbagai analysis.
Dengan chart account, cost, expense, revenue dan mutasi keuangan lainnya menjadi terkelompok sesuai dengan "behavior (perilaku)" nya.
Example:
When accounting transactions are added up at the end of the month and year, the company can be confident that all direct labor has been recorded in one account, all travel expenses in another, and so on for trade shows, advertising, and every other expense.
Tidak ada mekanisme lain yang dapat membantu perusahaan untuk mendeterminasi "berapa pengeluaran" atas masing-masing category pengeluaran perusahaan, selain chart of account. Chart account juga membuat catatan menjadi lebih consistent.
Note: lima categories pada budget Royal Bali Manufacturing Company merangkum seratus atau dua ratus code rekening exepense atau cost. Dan itu hanyalah contoh semata. Sangat mungkin perusahaan anda menggunakan category yang berbeda atau bahkan terminology-nya pun mungkin berbeda juga.
SIGN:
Once the chart of accounts is established, the accountants will examine each and every individual cost category in order to attempt to determine whether the cost is fixed or variable. They will often reach simplifying conclusions.
Fixed Costs
Seperti sudah sering saya bahas di posting-posting saya sebelumnya di (accounting, finance and taxation yang lama) bahwa: Fixed costs adalah cost yang relative stabil (sama) tanpa terpengaruh oleh volume produksi.
SIGN:
Costs included in the category are staff expenses, administration, rent, machinery repair, and management salaries.
Note:
Just because a cost is identified as fixed does not mean that it does not change. Rent can change, as can salaries, employee benefits, and even advertising. These are fixed costs because the amount spent is not volume-driven, although it may be volume-motivated. Advertising and trade shows create revenue, presumably. If this is true, then perhaps a forecast of weak sales should lead to an increase in these marketing investments. Telephone and travel are examples of other expenses that may increase when business is soft. Customers may be called and visited more frequently.
Variable Costs
These costs are volume-driven. Artinya variable cost akan meningkat ketika volume produksi meningkat, and vice versa.
SIGN:
Some of the costs in this category are direct labor (production labor), materials (components of the product), and certain administrative and distribution costs.
Development of Fixed-Cost Estimate
Diestimasikan bahwa sepanjang periode budgetnya, Royal Bali Manufacturing Company akan menghabiskan $135,000 dalam bentuk costs yang diidentifikasi sebagai "fixed cost", dengan rincian sebagai berikut:
Factory Overhead = $40,000
Administration = 45,000
Distribution = 50,000
=============================
Total Estimated Fixed Costs = $135,000
Development of Variable-Cost Estimates
Estimasi atas variable cost dapat dilakukan dengan melakukan "manufacturing and engineering analysis" terhadap adminsitratif maupun fasilitas (bangunan, mesin, perlatan) bagian produksi. Selanjutnya masing-masing "per-unit cost" di kalikan dengan total unit yang diharapkan akan diproduksi untuk mengestimasi "variable cost" berdasatkan category maupun keseluruhannya. Untuk mempermudah pemahaman, berikut adalah penjelasannya:
Raw Material Cost:
Raw Material diestimasi berdasarkan engineering specification, beberapa aspect lainnya menggunakan production efficiency analysis, serta product-mix. Tingkat barang cacat dan barang terbuang di analysis berdasarkan pengalaman di periode sebelum-sebelumnya. Setelah melakukan observasi dan interview (konsultasi) dengan para pekerja dan staff yang menangani langsung pembuatan product, dapat diketahui perkiraan "material cost per unit" sebagai berikut:
$5.00 x budgeted 10,000 units = $50,000 materials budget
Direct Labor Cost
Direct labor is a very complex cost to estimate. Total expenditures di area ini banyak dipengaruhi oleh:
The use of manual labor versus technology in production (penggunaan pekerja manual versus penggunaan tehnology di produksi)
Outsourcing versus internal manufacture/assembly ( pengguanaan out-sourcing versus penggunaan tenaga kerja di dalam perusahaan).
Efficiency (effisiensi)
Number of shifts planned (banyaknya shift waktu kerja yang direncanakan)
Employee training and turnover (turnover dan training tenaga kerja)
Forecast length of production runs (peramalan lamanya proses produksi)
Whether the product is market-driven (made to order) or production-driven (apakah produksi dibuat berdasarkan pesanan atau pemenuhan kapasitas).
Planned overtime and weekend shifts (kerja lembur yang direncanakan)
Premium pay agreements (kesepakatan pembayaran yang secara exclusive memang mahal)
Other Expenses
Adalah pengeluaran-pengeluaran selain "direct materials", "direct labor—factory overhead", "administration", dan "distribution (both fixed and variable components). Salah satu tantangan yang paling seringterjadi adalah, pada saat menghadapi expenditure yang sebagiannya adalah fixed cost semntara sebagiannya lagi tergolong variable cost.
Sering terjadi controversy ketika akhir periode buget masing-masing department and personnel tiba, dimana, sering ada manager yang beralasan bahwa cost yang ada di departementnya adalah bersifat "fixed cost", sementara department yang bersangkutan lupa (memang menggap tidak perlu) mengirimkan update atas penambahan atau pengurangan office staff yang dipakai di departementnya. Tentu saja, seharusnya penambahan atau pengurangan office staff pada department yang dianggap ber-"fixed cost" tetap harus di update.
Tips: Managers should examine the standards used by their company and evaluate whether the behavior assumed by the cost system reflects their perception of how their costs really behave.
Taking these issues into account, Royal Bali Manufacturing telah membuat estimasi atas variable cost atas porsi ini sebagai berikut:
Jika di summarize dari budget yang telah ada, maka budget Royal Bali Cemerlang adalah sebagai berikut:

(Note: you can also find it on the bottom of the annual budget shown before).
Mengenai break even point calculation, analysis-analysis lainnya akan akan saya bahas di posting saya berikutnya. Adapun outline pembahasannya adalah sebagaia berikut: Breakeven Calculation and Its Analysis, Price Reduction Analysis, Business Opportunity Analysis, Out-sourcing Opportunity Analysis, General Observation on each Cost Categories, Financial Strategy for New Business, Variance Analysis on each Cost categories.
Are you looking for easy accounting tutorial? Established since 2007, Accounting-Financial-Tax.com hosts more than 1300 articles (still growing), and has helped millions accounting student, teacher, junior accountants and small business owners, worldwide.