Young & Rich: Why Aren't They Accountants, But Tech?
Eighty nine billionaires from tech industry have made it to the Forbes 500, with total net worth $405.4 billions—third biggest after fashion&retail and investment—with median age 52 years old.
As for median age of the financial industry (banking and accounting included), is 55 years old with total net worth $215 billion. Why is this so?
The number of young tech billionaires on the Forbes 500 has been increasing since 2005. It was 6 young people in 2005, increased to 10 in 2008, and to 11 in 2011. Out of 11, five are not even passed their 36th birthday, according to Focus.com in a vivid infographic.
Currently, 8.9% of billionaires on the Forbes 500 are 40 years old and younger, only 2.2% are 35 and younger. Of those 35 and younger group, 45% are from tech industry (not financial or even investment). And of those 40 and younger group, 25% are from the tech industry. Once again, why is that so?
Six famous young billionaires from tech industry are:
Sergey Brin, 37 years old (Google's Co-Founder) $19.8 billion net worth
Larry Page, 38 years old (Google's Co-Founder) $19.8 billion net worth
Mark Zuckerberg, 27 years old (Facebook's CEO) $3.5 billion net worth
Dustin Moskovitz, 27 years old (Asana's CEO) $2.7 billion net worth
Yoshikazu Tanaka, 34 years old (Gree's CEO) $2.7 billion net worth
Sean Parker, 31 years old (Former Facebook's President) $1.6 billion net worth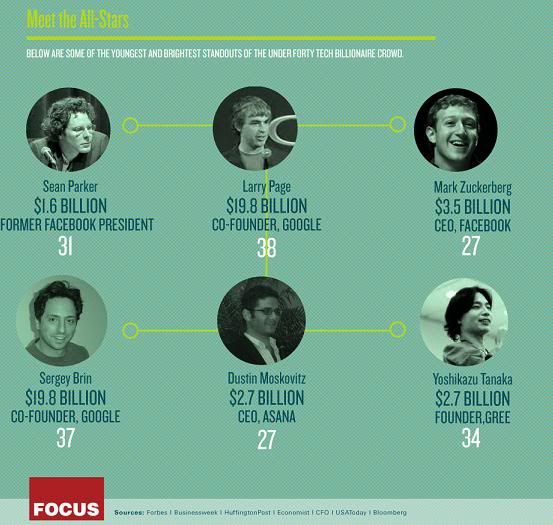 Simply, tech industries favor the young movers shakers, here is why according to Focus.com:
1. DIY Industry – Many of these young CEOs have achieved their positions by forming their own companies and simply calling themselves as "CEO"! Tech has long been a favorable industry for startup—particularly for the young entrepreneur. (To me, tech industry is much younger compare to financial industry. Financial world has been existing almost since the beginning of the civilization. It makes sense to me that many seniors—who has much more experience that young accountant hard to compete with. I wouldn't say that nothing is new in the financial world, but it's much less compare to tech world).
2. Taste Makers – The tech favors younger leaders because they have their fingers on the pulse of what is new and what is next. Many of these tech billionaires know how to draw in early adoptees of technology because many of the early adopters are their peers. (Well, financial isn't driven by taste. It is an old-fashioned world where conservatism principle is still at the top. Also, as far as I know, tech is much closer to a life style compare to financial. Facebook is a good example, I think).
3. Open Minded – Today's CEOs have a better understanding of technology and globalization than the generation of CEOs twenty years ago. This is because they grew up immersed within a period old rapid technological growth. (This is not a good point to compare with financial industry. It does not mean that financial or accounting people have closed minded. In fact, every young people does. It is simply not the right factor for the comparison).
4. Risk Takers – People who become CEOs at a young age are unafraid to take risks and look for new opportunities to stand out. Those CEOs tend to thrive on the fast faced excitement of entrepreneurial tech. (As same as point 3rd above).
So what do you think? Why do young billionaires come from tech, not from the accounting world?
Are you looking for easy accounting tutorial? Established since 2007, Accounting-Financial-Tax.com hosts more than 1300 articles (still growing), and has helped millions accounting student, teacher, junior accountants and small business owners, worldwide.