How Payments Evolved From Credit Card to Smartphones
Commerce, money and payments have evolved several times in human history—barter, coins, paper, plastic, and now smartphones?
Through the use of so called 'Near Field Communication' (NFC) chips, several companies are about to revolutionize the way we pay the stuffs we need—replacing our current plastic money (credit cards) with mobile technology, smartphones!
How The Near Filed Communication (NFC) Works

NFC allows for a simple data exchange between two devices by way of a physical touch. NFC requires an initiator and a target:

The initiator generates a radio frequency (RF) field with a range of about 4 centimeters.
The target picks up the RF filed and receives the data it contains
Mobile payments market is growing faster and faster. A report said that current mobile payment transaction has reached $240 billions annually. And it is going to get doubled or even tripled in the coming five years, according to reports by Juniper Research:
By 2013 – 1 in 5 cellphones worldwide will use NFC technology, and sales of NFC-equipped phones will exceed 75 billion.
By 2014 – Google predicts that 50% of cell phones worldwide will use NFC technology, and NFC transactions alone will approach $50 billion.
By 2015 – The value of all mobile money transactions is expected to reach $670 billion. And, digital goods will make up nearly 40% of this market. Asia, Western Europe and North America will eat 75% of all mobile payment transactions.
Several mobile tech companies now in a tight race to get their device to market, but who will be the dominant provider?
There four major players identified so far:
1. Google Wallet
Market – The premiere mobile payment platform for Android users
Technology – The Nexus S 4G is already shipping with NFC chips that will interface with Google Wallet when it launches.
Pros – Google Wallet will sync with Google Offers—allowing you to take your coupons and savings with you as you shop
Cons – No mention of support for Visa. No mention of iPhone support.
Partners – Google, Citi, MasterCard, First Data and Sprint
2. ISIS ™
Market – ISIS was founded as a coalition between AT&T, Verizon Wireless and T-Mobile
Technology – Will run on any NFC enabled device supported by the three carriers.
Pros – ISIS is working on a mobile wallet system that could store multiple credit and debit cards, and allow users to pay with any of them.
Cons – No support for Sprint
Partners – Discover, MasterCard and Visa
3. Visa Wallet
Market – The digital wallet is expected to handle multiple cards and payment options through many financial networks.
Technology – Will run on most smart devices, and can make use of NFC if available
Pros – Visa's 50+ years experience in payment processing.
Cons – No mention of support for MasterCard, Discover, or Amex.
Partners – Visa, and 14 additional banks and financial service providers
4. Serve (By American Express)
Market – American Express customers.
Technology – Will primarily run on the payfone, a mobile commerce centered device backed by Amex.
Pros – Can send money securely between two devices.
Cons – No mention of support for Visa, MasterCard, or Discover.
Partners – American Express financial network.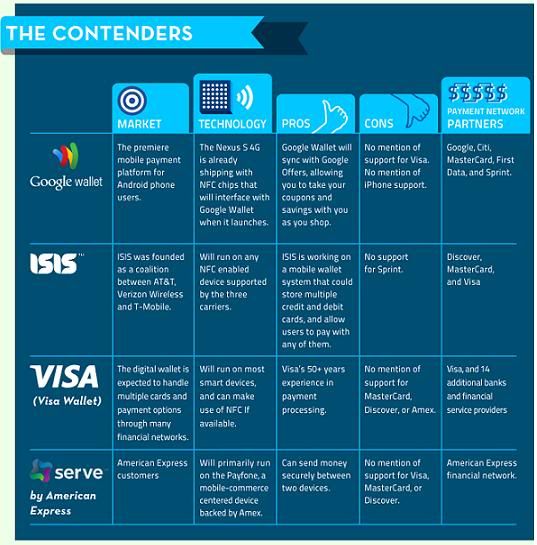 There are two major concerns for any accountants who administers or audit client that use the new payment form: (1) Is it completely secure? (2) is there any specific treatment that accounting bodies need to develop–is it just like a credit card transaction? (Sources: GW-press.appspot.com, Google Wallet, Venturebeat.com, FastCompany.com, Techcrunch.com, NFCrumors.com, Gigaom, and Juniper Research. Via: Gplus.com. Infographic by: Column Five Media)
Are you looking for easy accounting tutorial? Established since 2007, Accounting-Financial-Tax.com hosts more than 1300 articles (still growing), and has helped millions accounting student, teacher, junior accountants and small business owners, worldwide.