Cool Tools: Mobile Expense Report Applications
Well, I know. You landed here because of either you are an accountant or an accounting student. And, tracking corporate expenses must be easy for you—using a handy accounting software or a lovely-tailored Excel sheet but, what about your personal expenses, do you track it well?
No shame, neither did I, until I have an issue with my personal tax report—I lost most of my receipt. Ugh! It was not because of I didn't save it, but I forgot the place where I put it. Then, that's really shame on me. An accountant doesn't know where he put his receipts.
Now, not anymore. I put all the receipts on my iPhone I bring wherever I go. Yes, there are some good iPhone applications for tracking your expenses on the go. Here I want to share of the applications (search them via iTunes):
Shoeboxed Receipt Tracker and Receipt Reader (

Free

)
This is my favorite. After the envelope it is the go-to storage device for many receipts.
The Shoeboxed Receipt Tracker doesn't require a Shoeboxed account, but does use photos of your receipts to create expense reports that can be exported into QuickBooks and Excel.
Note: It provides a paid service where you can mail in your receipts for the company to digitize and organize your information.
Expensify (

Free

)
It can link to your credit card account and import your purchase histories.
The application will generate IRS-ready receipts for expenses under $75. It syncs with the Expensify website.
ProOnGo Expense with Receipt Reader (

Free

)
It tracks receipts in details, and you can export your information to Excel and even QuickBooks if you want.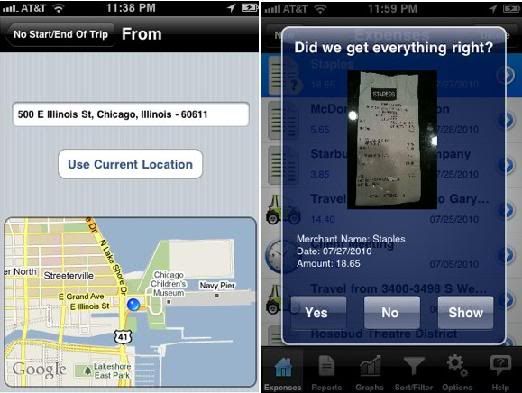 The Receipt Reader fills out an expense report for you, based on information from a photo of a receipt.
Fresh Xpense Capture (

Free

)
It takes photos of your receipts and sends them to the Xpenser.com website, where you can generate your reports.
Receipts (

$7.99

)
It lets you create accounts and categories, and has 5 different types of custom receipt fields for local taxes, payment information, and mileage. You can add multiple photos and even record a voice memo.
The app also has a graphing component so you can monitor expenses. Reports can be generated via email, and the app has Evernote and Google Docs integration as well. This is the most comprehensive I found so far, but there is a price for this application—about $7.99.
Do you have a favorite mobile expense report application? Please feel free to share yours through the comment form below.
Are you looking for easy accounting tutorial? Established since 2007, Accounting-Financial-Tax.com hosts more than 1300 articles (still growing), and has helped millions accounting student, teacher, junior accountants and small business owners, worldwide.