Personal Banking Best Practices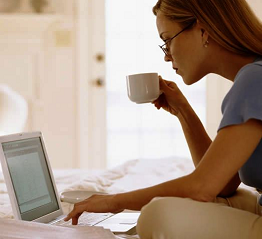 Not that many years ago, if you're in the United State, you would choose a bank from the few available in your town or city. You visited the bank and filled out paperwork to open new checking and savings accounts. To become a member of a consumer-friendly credit union, you had to work for an employer affiliated with that credit union. Today, things are far different. For one, the choices are so much broader. You can choose among hundreds of banks across the country. You can open an account by filling out forms on the Internet and electronically transferring money into the account, which isn't as difficult as it sounds. As for credit unions, most people nowadays qualify for at least one. No matter what accounts you investigate, keep one main criterion in mind: "No fees or as few as possible!" You shouldn't have to pay a bank to hold your money. The implied deal is this:
They get use of your money. In return, you get use of a bank account and some meager amount of interest. Obviously, a fee for bouncing a check is reasonable. But so many others just aren't.
Here's a generalization that will draw criticism, but it's true most of the time:
The huge national banking behemoths are probably not the right bank for you, or any consumer. The fees are likely to be numerous and expensive, and the service is likely to be lousy. And as we saw with all the bank failures and bailouts during the financial crisis of 2008 and 2009, big banks are certainly no safer.
Getting a "No-Fee Checking Account"
Checking accounts are probably your most important account. A checking account is your command center, where all the action is. Money is coming in and going out every week. It's also where you can get ripped off with a plethora of bank fees. So, it's important to get a suitable account that's not going to cost you money.
When the first priority is to limit fees, make sure you get a free checking account, which means no monthly charge and no minimum balance, unless you're certain you can regularly meet that minimum balance requirement. You should also have unlimited check writing and free use of your debit card, whether you use a PIN code or sign a sales slip.
You can even find accounts that don't charge ATM fees for using the wrong bank's teller machine. Others will rebate a certain dollar amount each month for using "foreign" ATMs.
Here are criteria you might judge a bank on, when it comes to checking accounts:
Online bill paying
Interest on balances
Overdraft protection
Unlimited check writing
Free linked accounts
24-hour automated banking
Free or discounted check printing
Nonbank ATM fee rebates
E-mail alerts
Debit rewards card
Mobile banking services
Try not to fixate on getting an interest-bearing checking account, at least when interest rates are so low, as they have been for years. Even if a bank paid a healthy 2 percent on checking, that's only $30 in interest per year on an average balance of $1,500. Fees could quickly demolish any interest earnings. Besides, banks regularly change the interest rates they pay on accounts, so it shouldn't be your highest priority.
Considering "Rewards Checking"

If you're the type of person who must make the most interest you can, you can try a rewards checking account, which pays about 6 percent interest on balances up to $25,000 and offers free online bill paying and no ATM fees. But there are catches:

The primary requirement is you have to make 10 debit-card purchases per month.
Not only that, but you must also use your card as a credit card in which you sign for the purchase, instead of using a PIN code.
You also have to create at least one direct deposit into the account and receive an electronic statement instead of a paper one.

How can banks afford to pay such a higher rate of interest? Banks clean up on merchant fees for signature-based debit-card transactions, so they share that with you in the form of a higher interest rate. Compare rewards checking accounts in some online banking resources.
Because checking accounts are so integral to your financial life, switching accounts can be a headache. That's especially true if you have a number of automatic deposits and bills paid directly from your checking account. To help, many banks are offering switch kits, which provide some hand-holding through the process of opening the new account and closing the old one.
Is it worth changing checking accounts? Look back at all the fees you paid over the past year. The size of that dollar figure will tell you.
Checking-Account Fees By The Numbers

$2: Most common ATM surcharge
$28.95: Average bounced check fee
$11.97: Average monthly service fee on interest-bearing accounts
$3,461.84: Average balance needed to avoid fees on interest-bearing accounts

Source: Bankrate.com survey 2008
Personal Banking Quick Tips

Fee-free cash – If you can't find an in-network ATM, look for a nearby supermarket that will give you cash back on debit-card transactions. Buy something small that you would have bought anyway. Make the purchase using your debit card, enter the PIN code and get your cash fee-free.
Cheap checks – Instead of ordering books of checks through your bank for $25, order them online for less than $10. See Walmartchecks.com, Checksinthemail.com, CheckWorks.com, and Checksunlimited.com.
Set Up at Least One "High-Interest Online Bank Account"
This is where you might want to keep your emergency fund, next-car fund, and other short-term savings. The idea is to earn a little interest while the money is parked for a relatively short time, for example, less than five years. That's as opposed to investing, where the goal is long-term growth of the money.
You might want to set up more than one savings account, each earmarked for a specific purpose. I have one for an emergency fund and one for home improvements, for example. Good advice on savings is easy:
Shop by rate as long as the bank is insured by the Federal Deposit Insurance Corp. (FDIC). However, you should determine whether it's an introductory rate that drops quickly after a certain number of months.
The highest rates are offered in money market accounts and online-only banks. A minor drawback of these savings accounts is you must transfer money into and out of the accounts electronically, which isn't as scary as it sounds. It's basically providing a bank routing number, which is one of the groups of numbers on the bottom of your paper checks. The drawback is that it could take a couple of business days for the transfer of money to go through. In most scenarios where you'll be depositing and withdrawing money from a savings account, that shouldn't be a problem.
Consider FDIC Insured Bank

It's unusual, but banks can fail, as we now know all too well after the financial crisis. However, if the bank is FDIC insured, your money is safe up to $100,000[1] per person on the account at a single institution. If an account is held jointly by a husband and a wife, they each are insured for $100,000, for a total of $200,000. If you have a lot of money to sock in an account, a good strategy is to deposit about $90,000 per person per bank. That way, your principal of $90,000 plus its interest will be insured. Certain retirement accounts are insured up to $250,000 per owner, per insured bank.

There's so much competition among banks, there's no reason to get an account without FDIC deposit insurance!
Joinning a Credit Union [If you Have To]
Credit unions might be the perfect mix of favorable rates and personal service. Credit unions, which are not for-profit, can offer good rates because customers are the shareholders. Credit unions are affiliated groups of people who pool their money and lend it to each other. Unlike banks, they don't have divided loyalties—trying to serve a customer at the same time as boosting profits and the stock price for shareholders.
Credit unions are exempt from paying federal income taxes, which allows them to be very competitive, despite being much smaller than the megabanks. Of course, that makes the banking industry very grumpy. It claims those advantages allow large credit unions to compete unfairly with traditional banks. But the advantages can be a boon for consumers.
Traditionally, the major catch was qualifying for membership in a credit union, through your employer, for example. But nowadays, more people than ever are likely to qualify to join at least one credit union—and probably qualify for several. A 1998 law loosened membership requirements for credit unions. So you might qualify just because you live in a certain county or are a member of a certain church. To find out whether you qualify to join a credit union, ask your employer or family members who belong to a credit union, or go online to credit union search sites.
Most credit unions require a small savings-account deposit—not a fee—to join. It could be as low as $5 for a lifetime membership. That means you retain membership even if you leave the employer, geographic region, or association that qualified you to be a member.
Credit unions are probably best for borrowing. Auto loans tend to be a great deal, and credit unions might be the only place you can get a personal loan. But you might find the credit union is a good answer for checking and savings, too. Credit union deposits are protected by the National Credit Union Administration with the same protections as FDIC-insured deposits at banks.
Are you looking for easy accounting tutorial? Established since 2007, Accounting-Financial-Tax.com hosts more than 1300 articles (still growing), and has helped millions accounting student, teacher, junior accountants and small business owners, worldwide.