6 Key Success Factors for IFRS Conversion [Survey]
The International Financial Reporting Standards (IFRS) are arguably the most widely discussed accounting topic of the moment among businesses in the United States (US)—in particular, what is involved in adopting the standards. The volume of discussion has only intensified since November 2008, when the US Securities & Exchange Commission (SEC) proposed a roadmap that would allow some US companies to adopt IFRS as soon as 2009 and require adoption by all companies by 2014, 2015 or 2016, depending on the company's size and filing status.
There is no question that IFRS conversion will be a major challenge; however, it also stands to offer companies a number of compelling business opportunities and benefits. The key concern, thus, becomes "what companies should do to keep their IFRS initiatives on track and generate the greatest possible benefits". I found an interesting internet-based survey conducted by Accenture in December 2008, just after the SEC had proposed its IFRS Roadmap.
According to Accenture 2008 IFRS Survey, information technology is most commonly seen as a key to the success of an IFRS initiative, fact cited by just less than 60 percent of executives surveyed. Not far behind in the minds of survey participants are trained people, cited by just under half of the respondents. And, given the scope and extent of IFRS's impact on an enterprise, it is no surprise that approximately one-third of executives view change management as a critical success factor. Let's overview the six key success factors after the next graph. Follow on…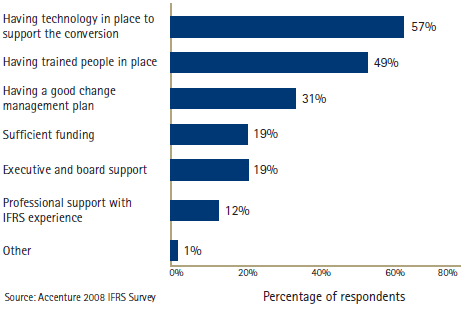 Key Success#1. Having Technology in Place to Support the Conversion [

57%

]
No doubt, a company's enterprise resource planning system may need to be modified to handle differences in the way some accounting measurements — for example, asset retirement obligations — are calculated under IFRS. The same goes for processing logic. For example, unlike Canadian and U.S. GAAP, IFRS allows an asset previously written down for impairments to be written back up if its fair value recovers. Processing logic that takes that possibility into account would need to be built into systems.
Note: While U.S. companies have not been mandated to adopt, international financial reporting standards set to become the new accounting regime in Canada on January 1, 2011, most public companies there are well along in the conversion process. However, Their experience may prove useful to U.S. companies if and when the latter are required to switch to IFRS.

One lesson: while the finance function naturally should drive the conversion project, the high-level participation of information-technology leaders is essential, especially in complex organizations.
There may also be a need for changes to the interface between the general-ledger system and any other system that relies on data from the ledger, such as for internal-management reporting or compliance.
Key Success#2. Having Trained People in Place [

49%

]
As is the case with any large-scale change initiative, a comprehensive communication program should accompany the IFRS conversion to inform key stakeholders of what IFRS means for them (and, in the case of employees, how specific elements of their jobs will be affected by conversion). For investors and analysts, communication should focus on how IFRS will affect earnings, as well as the company's assets and liabilities. Employees and business unit leaders also will need to be alerted to what is changing and when, and how those changes will affect their daily jobs (and, as noted earlier, in some cases their compensation).
How are companies faring in these areas? Organizations in Accenture survey are proceeding down the path to addressing these key IFRS success factors, although considerable opportunity for improvement exists. For example, about 40 percent of respondents claimed their companies have a high level of skills and capacity to address IFRS conversion impacts on a variety of areas, including tax planning and strategy, capital/ investment planning and strategy, internal and external reporting, mergers and acquisitions (M&A) planning and strategy, and ERP and financial systems. But only approximately one-third gave a high rating to their ability to address IFRS impacts on such areas as investor relations, incentive compensation changes and debt covenant revisions.
One-third of respondents also said they "very much so" have an adequate number of personnel with sufficient skills and capacity for converting to and maintaining IFRS financial statements; just less than half said they "somewhat" have such skills. However, 20 percent said they either have no such skills in place or don't know the state of their capabilities in this area. And when it comes to change management and communications, just less than half said they expect to have a moderate focus on these areas, while only 37 percent said their focus on such factors will be significant.
In sum, it appears that for a substantial portion of companies surveyed, the talent and attention focused on IFRS adoption are not as strong as they could be given the magnitude of the initiative they face.
Key Success#3. Having a Good Change Management Plan [

31%

]
Accenture's experience in IFRS conversions has revealed additional and related insights into the factors for success. For example: 
They have learned that it is critical to get started early, which the large companies in our survey are in fact doing. And the scale, scope and complexity of the initiative can be significant, so it behooves companies to take advantage of the time they have to tackle the challenge.
Second, they found that a strategic assessment is invaluable for defining how adoption will impact each specific organization, and in particular how the chosen IFRS policies will affect people, processes, data and technology.
Conducting such an assessment will enable companies to have a more effective timeline for preparation and implementation, and will allow them to understand potential synergies with other company initiatives. Here are some examples:
A company designing and implementing an ERP system should consider how their chart of accounts and general ledger design and configuration would have to change to accommodate the parallel accounting required by IFRS. Doing so would allow them to embed those changes in the new system while it is being developed, instead of having to implement costly changes down the road when the conversion to IFRS is made.
Another example relates to training: companies generally understand that the finance function will have to undergo extensive training to make the shift to IFRS. However, as mentioned earlier, IFRS likely will affect many other areas of the business, and therefore training for employees in functions outside of finance also must be developed and implemented to make the transition to IFRS as smooth as possible.
Given the fact that IFRS could touch many areas of the business, it is also critical to have representatives from across the enterprise involved in the initiative. One way to secure such participation is by creating a cross-functional steering committee—accountable to the audit committee—that includes individuals from human resources, information technology, business operations and finance.
Key Success#4. Sufficient Funding [

19%

]
In its proposed plan to move all U.S. publicly traded companies to the global standards, the SEC also predicted that the largest U.S. registrants that adopt IFRS early would incur about $32 million in additional costs for their first IFRS-prepared annual reports.
The most widely used metric for the expenses incurred in Europe came from the Institute of Chartered Accountants in England and Wales back in 2005, after European Union companies switched from their home-country GAAPs to IFRS. Those with revenue between 500 million Euros and 5 billion Euros spent 0.05 percent of their revenue in their first year of transitioning to IFRS.
Smaller companies likely will have a disproportionately higher cost to begin the conversion process, if regulators mandate that they, as well as their larger counterparts, move to IFRS. Companies with revenue between $1 billion and $4.9 billion — the lowest category in the Accenture survey — predict they would spend 0.731 percent of their revenue on the change. Compare that to the companies with revenue over $50 billion that expect to spend only 0.103% of their revenue.
Key Success#5. Executive and Board Support [

19%

]
When it comes to both the impacts and opportunities inherent in adopting IFRS, Accenture research shows that CFOs take a very different view than other executives. Indeed, while all respondents acknowledged the complexity of IFRS, CFOs see the task as more challenging, are more optimistic about its results and are more prepared to act fast.
For example, more than two-thirds of CFOs predicted IFRS conversions would add significant complexity to executing other enterprise initiatives, versus less than half of other respondents. Across the board, CFOs also are more likely than other respondents to believe IFRS adoption will have a significant impact on all functions: a minimum of 60 percent of CFOs voiced this sentiment, compared with a range of 21 percent to 47 percent for other respondents.
This difference likely explains why CFOs also are more apt than others to recognize the importance of change management. In fact, 64 percent of CFOs, versus only 30 percent of other respondents, plan to emphasize change management and communication as part of their IFRS initiative.
Finally, CFOs appear much more ready to act. While 15 percent of directors of finance and accounting are waiting for more clarity and direction before beginning their IFRS projects, less than 5 percent of CFOs believe they need more insight to proceed.
To make an enterprise become successful in IFRS conversion, it needs more than an adaptable executives, it needs a full supporting executives.
Key Success#6. Professional Support with IFRS Experience [

12%

]
Just as today not everyone within a company's controllership and accounting functions is knowledgeable about U.S. GAAP literature in its entirety, the same will be the case with IFRS conversion training. All such personnel should get "awareness-level" training to paint the big picture. But deeper training should be given only on accounting issues that people specifically deal with in their roles. For example, someone who works on pensions and employee benefits will need a lot of instruction in how IFRS treats that, but won't necessarily need to know much about inventory accounting.
And for those all, an IFRS adopter need professional support with IFRS Experience. Having in-house accountants who establishes a position as the "go-to" person on IFRS within a company, will give a good impact in the transition.  The footnotes to financial statements "are going to be much more important" than with U.S. generally accepted accounting principles, because they will allow more flexibility in what and how information is presented.
It's going to be a different kind of expert than you've had under GAAP, and that person is going to be extremely needed because they will help the company understand what its real options are.
Other Accenture 2008 IFRS Survey Results
At a high level, their research uncovered four main findings:
IFRS's impact will be much larger and broader than anticipated, affecting many areas outside of finance including human resources, IT, business operations, external stakeholders and customers. Furthermore, survey participants expect IFRS will add substantial complexity to a variety of initiatives they currently are pursuing, such as new enterprise information systems implementation, mergers or acquisitions and expansion of global operations.
IFRS provides companies with a significant opportunity to achieve broader transformational change and drive business benefits beyond compliance. In particular, survey participants see IFRS adoption as an opportunity to transform the finance function. But they also acknowledge that the shift could help them reduce their risk exposure from dealing with different statutory reporting methods, more smoothly integrate their global operations and expand into new geographic markets, and improve financial reporting and transparency
Chief Financial Officers (CFOs) perceive the impacts and opportunities of IFRS differently from other constituents in finance and outside of finance. For example, they were more likely than other respondents to believe IFRS will introduce complexity into ongoing corporate initiatives, affect functions outside of finance, and cost more to adopt. But CFOs also are much more apt to see the potential of IFRS to drive a major change in the way the finance function does business.
IFRS's impact on enterprise performance management capabilities will be significant, and many executives are making substantial investments in key related processes and technologies to deal with the impact. Target setting, planning, forecasting and management reporting are among the capabilities executives believe will need to be improved to deal with the changes and volatility IFRS likely will introduce in the flow of revenue and costs.
Now that IFRS—or at the very minimum, convergence on a global set of standards—is unavoidable, companies should strongly consider making improvements to areas of the organization that will be affected by its adoption. In particular, executives believe there are major opportunities for transformation in the finance function as part of IFRS adoption. However, each company also will find challenges and opportunities specific to its industry, accounting policies, systems and business priorities, so a strategic assessment prior to launching an IFRS initiative will help companies understand the magnitude of change necessary and where they can derive the greatest benefits.
Are you looking for easy accounting tutorial? Established since 2007, Accounting-Financial-Tax.com hosts more than 1300 articles (still growing), and has helped millions accounting student, teacher, junior accountants and small business owners, worldwide.