Would You Lower Your 2009 Tax Bills? [A Week Left!]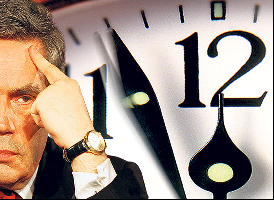 A week left to lower your 2009 tax bill. Along with the holiday preparation and the New Year celebration, many of you most likely not realize that the chance to take the most out of the 2009 tax breaks is almost over. As I have posted on my previous post on the taxation category: 2009 – 2010 Tax Breaks [What's New?], there some tax breaks that are specific to 2009. But will require you to make big decisions, and now will need you to decide and act quickly.
Yes, President Obama has said he would like to raise taxes on higher-income households only after the 2010. But, can you create a tax strategy based on what you haven't known yet? I doubt it. To help you to consider and act quickly, here's a checklist of items to consider well before you take out for your dream vacation—hotel reservation.
Gift
Individuals can give any number of people up to $13,000 each in 2009 without gift tax consequences. So if you want to maximize the amount you can give to, say, a relative who lost a job, you can send $13,000 now and $5,000 more next month.
Donate
All donations, monetary or otherwise, must be made by the end of the year (and only individuals who itemize their deductions are eligible for a deduction). Donations of household goods or clothes must be in "good used condition," and require a receipt from an organization detailing the items, unless you left the property in a drop box (if that's the case, keep your own records). All donations worth more than $250 require a written receipt from the organization. Donations put on your credit card this year but paid next year are also deductible.
Medical Expenses
These can only be deducted — as an itemized deduction — if they exceed 7.5 percent of your adjusted gross income (10 percent if you're subject to the AMT). So if you're near the threshold, consider buying eyeglasses or getting dental work, and paying for it before the year's up.
Defer and Accelerate
If your income will be lower next year or you expect to remain in the same tax bracket, you probably want to take as many deductions as you can in 2009 (that is, if you itemize your deductions on your tax return), and defer any income that you can into 2010. The opposite applies, of course, if you expect to be in a higher tax bracket in 2010. If you are looking for deductions, think about what tax-deductible payments are due early next year that can be paid now. Likewise, if you are self-employed or retired and you make estimated state and local income tax payments each quarter, you can make the payment due Jan. 15 in December.
Capital Gains
Many taxpayers have plenty of investment losses left over from 2008 — and those can be used to offset any gains on an investment sold this year. But whether you're selling an investment at a profit — or to generate a loss — just remember to pull the trigger by the end of the year. If your investment losses exceed your gains, you can use the excess to offset up to $3,000 of ordinary income each year (or $1,500 for married individuals filing separately). Losses can be carried to future years until they are used up. Long-term capital gains are currently taxed at 15 percent, though that is likely to rise to 20 percent, at least for high-income taxpayers, by 2011. It is also important to note that taxpayers in the lowest income tax brackets, of 10 and 15 percent, pay no capital gains taxes in 2009 and 2010, so selling investments at a loss would not provide additional tax savings.
First Time Homebuyer's Credit
The first-time homebuyer's tax credit of up to $8,000 has been extended, so eligible taxpayers can now claim the credit as long as they purchase a home or are in contract by April 30 (they have until June 30 to close). For those looking to move up or downsize, existing homeowners may qualify for a new tax credit of up to $6,500 — but they must purchase a new home, or sign a sales contract, between Nov. 7 and April 30. The credit can be claimed for the year before the purchase. So if you buy a home in 2010, you can still claim the credit on your 2009 return. But if you do not close on the purchase by tax day, you may need to get an extension or file an amended return later.
Home "Green" Improvements
If you made "green" improvements to your primary home this year, you may be eligible for a residential energy property credit, which is capped at 30 percent of the price of certain qualifying improvements, like energy-efficient windows and doors to heating systems. The credit is available for 2009 and 2010, up to a combined maximum of $1,500.
Other Education Breaks
Taxpayers with children in college, or students paying their own way, should make sure they have maximized the American Opportunity Tax Credit, available in 2009 and 2010, which replaces the less generous Hope Scholarship Credit. The maximum annual credit is $2,500 and covers tuition, fees and course materials. The credit phases out for single filers with modified adjusted gross incomes of $80,000 to $90,000 and for married couples filing jointly at $160,000 to $180,000.
Buy That Car
If you are planning on buying a new car, truck or motorcycle, you may qualify for a federal tax break if you purchase it before Dec. 31. The break allows eligible taxpayers to deduct state and local sales and excise taxes paid on up to $49,500 of the purchase price. But the amount of the tax break, which can be used whether you itemize deductions on your tax return or not, begins to phase out for individual taxpayers whose modified adjusted gross income is $125,000 to $135,000 and $250,000 to $260,000 for joint filers.
You don't need to spend all of those just to maximize your 2009 tax breaks. Spending is not a good idea in recession unless it has been properly planned. However, just to note that any money in flexible spending accounts must be spent before the end of the year.
Are you looking for easy accounting tutorial? Established since 2007, Accounting-Financial-Tax.com hosts more than 1300 articles (still growing), and has helped millions accounting student, teacher, junior accountants and small business owners, worldwide.