State Boards of Accountancy Various Contact Address
The right to practice public accounting as a CPA is governed by individual state statutes.
While some rules regarding the practice of public accounting vary from state to state, all State Boards of Accountancy use the Uniform CPA Examination and AICPA advisory grading service as one of the requirements to practice public accounting. Every candidate should contact the applicable State Board of Accountancy to determine the requirements to sit for the exam (e.g., education, filing dates, references, and fees).
For comparisons of requirements for various state boards and those policies that are uniform across jurisdictions, you should refer to the Web site of the National Association of State Boards of Accountancy (NASBA).
A frequent problem candidates encounter is failure to apply in a timely manner. Apply to sit for the examination early. Also, you should use extreme care in filling out the application and mailing required materials to your State Board of Accountancy.
If possible, have a friend review your completed application before mailing with check, photo, etc. Candidates may miss a particular CPA examination window simply because of minor technical details that were overlooked (checks not signed, photos not enclosed, question not answered on application, etc.).
Because of the very high volume of applications received in the more populous states, the administrative staff does not have time to call or write to correct minor details and will simply reject your application. This can be extremely disappointing, particularly after spending many hours preparing to sit for a particular exam.
The various state boards of accountancy, their Web sites, and telephone numbers are listed below. Be sure to inquire of your state board for specific and current requirements. It is possible for candidates to sit for the examination in another state as an out-of-state candidate. Candidates desiring to do so should contact the State Board of Accountancy in their home state.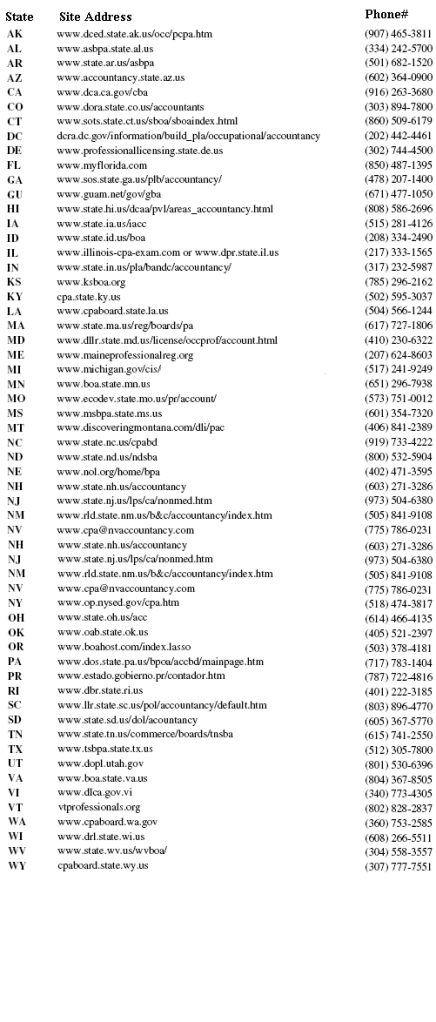 Note: The publisher does not assume responsibility for errors in the above information. You should request information concerning requirements in your state at least six months in advance of the exam dates.
Are you looking for easy accounting tutorial? Established since 2007, Accounting-Financial-Tax.com hosts more than 1300 articles (still growing), and has helped millions accounting student, teacher, junior accountants and small business owners, worldwide.