Procurement Cards (P-Card): Why, What and How
For purchasing people; procurement card (P-Card) maybe [should be] a familiar word, but for accountants [and accounting students] like us, it is somewhat strange. Tens [if not hundreds] accountant's typical questions spines; "what is procurement card (P-card)?", "why should procurement card?", "how does it work?", "how should it be administered (recorded) on the company's book?", "how is it controlled?", "how the tax matters handled?" Or, even a very specific question like; "how does Receipt Of Goods handled by using the P-Card?". There is nothing wrong with questioning, everybody needs to know [and learn], and that is why we are here [in the internet discussion]; looking for a more comprehensive information about things that we haven't known yet [the procurement card in this case]. This post emphasizes to answer such questions.
A research report indicated that in 2001 approximately 60,000 procurement cards were in use in the U.S., and the total volume of transactions was around $45 billion; and, about 25% of Fortune 100 companies had adopted the procurement card program. These cards have also become a hit in governmental, non-profit and university settings. Research studies have shown that in many organizations, 80% of purchases account for 20% dollar payment volume. The paperwork created for completing the requisition, order, approval, receipt, invoice and payment cycle for such purchases can easily overwhelm any system and result in considerable costs. Even if an ERP system is used, considerable overheads are involved in processing transactions for purchases of small items.
Bayer Corporation recently targeted temporary help, overnight shipments, meetings and event planning, uniforms and personal computers as additional areas for the use of procurement cards. Increasingly, procurement cards are also being used to pay for Internet purchases. Enough with "why procurement card?". So, what is procurement card?
What is Procurement Card?
Procurement cards, also known as P-Cards or purchase cards, are credit cards issued to non-purchasing staff for purchase of low-dollar items and services; for example, indirect materials, supplies, services and small-value non-capital items.
Procurement cards (P-CARDs) decentralize purchasing authority by enabling employees to make purchases without a paper trail and reduce transaction processing costs considerably. However, credit card companies charge fees for issuing cards, and the fee structure varies according to the agreements with the card companies. This cost needs to be factored in a cost-benefit analysis of procurement cards.
How Does Procurement Card Work and How Is It Administered [Accounted]?
Administration of procurement cards is generally handled by the department that implements the cards, or it can be centrally administered by a department, such as purchasing or finance. Introduction of procurement cards does not mean those cards will be used. Many organizations have adopted incentives/penalties for using/not using the cards.
Procurement cards change purchasing activities and cause changes in the recording of transactions. The primary effect is in mapping purchases to proper accounts and processing receipt of goods.
Generally, the account structure in the general ledger in most organizations can support recording procurement card transactions. The major problem is in the number of transactions; recording of these transactions can be time consuming. This problem is often referred to as reconciling with the financial system. This problem is handled in a number of ways:
First

, few companies simply charge these transactions to what is called procurement card purchases; or, a few standard headings, such as office supplies, shipping supplies and operating expenses, may be developed and used to debit the transactions.

Second

, a dedicated person may collect and sort reports and assign proper accounts numbers. However, this method slows the system and adds costs.

Finally

, procurement card reports coming from the credit card companies may be directly mapped to the general ledger and recorded. This method automates the process but adds upfront costs of programming.

For example

: Ericsson, a Swedish phone company that has implemented procurement cards, receives two files at the end of a month from American Express. The first file is an invoice to be paid to American Express and the second file provides a breakdown of spending by card, department and/or cost center. The second file is directly input to the ERP system and accounting entry is completed.
All the above ways sounds to be complicated and ineffective ways and become great challenge for the users [and enormous concern of Controllers & CFOs]. Is there any solutions?
P-Card Web Solutions Answer the Challenge
There are Web-based solutions (e.g.; P-Card Web Solution) that allow a user to receive expense statements over the Web, which can be viewed via browser. How do the web solutions work for the procurement card?
Step-1: This solution can come pre-mapped to the corporate database which, of course, involves upfront programming. Cardholders can then split the transactions based on item descriptions, categories and quantities, and assign the transactions to accounting codes specified in the general ledger; any invalid codes are flagged at the source. The user can then send a report to the general ledger and it can be posted directly or after a review.
Step-2: Users can also record their orders on the online order form and can formalize entries after receipt of goods or services. The online order log or electronic record of purchases can be automatically reconciled with electronic statements received from the card issuer.
Step-3: After reconciliation, a transaction report is generated that can be routed to the manager, who may review and approve it. The accounting codes are assigned by the user and can be posted to the general ledger or the cost accounting system, depending on existing linkages.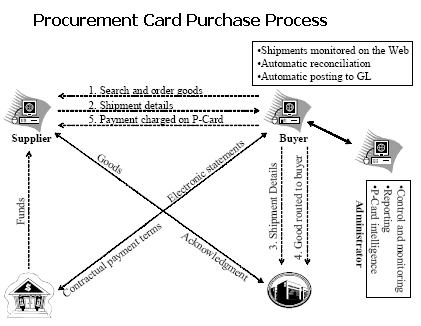 This solution comes with what is called an "administrator module". This function can be used to manage the procurement card life cycle. The administrator can monitor card activity and generate reports, such as sales tax, freight, [and even 1099 for U.S. users] and usage statistics.
Additionally, card users can be added or deleted, or their rights can be modified from this central place. Text and multi-media entries regarding users, usage or suppliers can be added to the database for reference purposes. For small businesses, a list of suppliers who accept procurement cards can be provided. This list can be searched by "SIC", "Merchant Category Code (MCC)", name and location, among other things.
How Are Receipt Of Goods [or Services] Handled?
Receiving of goods on procurement cards also needs to be handled separately. The objective is to reduce costs of small purchases, so the incoming small-purchase goods should not be subject to the formal receiving process:
Receipt of goods or services is generally confirmed by one authorized employee; then the payment process can be initiated. If goods are coming to the receiving dock, there may be a special receiving area where only procurement card purchases are received.
Another approach is to provide suppliers with special, bright labels that identify incoming procurement card purchases. These goods and supplies are directly forwarded to employees who ordered them and are not entered into the system.
To achieve these objectives, the procurement card system needs to be connected with the receiving function. Information such as packing slip, tracking numbers, shipper and carrier names, and contact information of the person ordering goods needs to be available in real time to the receiving function.
How Are Tax Matters Handled?
Procurement cards can cause sales- and local-tax-related problems. Oh…No!
Briefly: Does information collected from the procurement card statements provide sufficient documentation to determine whether the correct sales and local tax was collected on the transaction at the point of sale? Companies have to developed special procedures to handle sales and state tax issues. Remember, businesses pay penalties if the appropriate sales tax is not paid, whether they are buying or selling. So, how is it handled? Read on…
The first approach is to make approved vendors contractually obligated to collect and remit appropriate taxes.
Another approach is to educate employees concerning taxable and non-taxable sales. If sales are taxable, the vendor should be asked to provide a detailed breakout of sales tax, either on the invoice or on the shipping notice.
Finally, many organizations have acquired sales tax exemption from every state where procurement cards may be used. The organization provides an exemption number to all employees or embosses it on the procurement card. The organization then accrues and remits the sales tax to various states based on the transactions. This method is cumbersome and can add considerable overheads.
There are a number of other approaches to handle this issue. Some organizations will simply remit the appropriate sales tax without any regard to the sales tax collected by the vendor, since the dollar items are small. Others might rely on vendors and take chances with the tax audit, since the dollar items are small. There also are other issues, such as purchases from minority- and women-owned businesses and separate reporting requirements, which are not further discussed here.
What Controls [Internal Controls] Are Applied for Procurement Card Usage?
Controlling procurement cards is certainly a challenge. The main problem is assuring that the procurement cards are only used as per the established corporate policy. Additional controls also need to be in place to prevent unauthorized use and theft of procurement cards.
A number of internal controls can be designed to achieve these objectives. However, research has shown that procurement card programs are not beneficial if internal controls are strict and if cost allocations are taken very seriously.
Remember, procurement cards are used to facilitate purchase of low-value items and generate low-cost transactions. If controls are very strict, employees may be discouraged from using procurement cards.
An illustrative list of internal controls is provided below:
A card can only be issued by the authorized manager. There is written justification as to whom and why the card is being issued. There are standard operating procedures for stolen or misplaced cards.
These cards are issued only to trusted employees after proper documentation and managerial approvals. In many cases, organizations even conduct background checks before issuing cards. However, issuing procurement cards is not only a financial issue. There is a delicate balance between trust and empowerment of employees who receive cards and low morale in employees who do not receive cards.
The person who holds the card is responsible for all charges on the card. Ultimate liability rests with the company; however, the person is answerable to superiors for use of the card.
Each card has a dollar maximum, and this maximum can be applied to daily, weekly or monthly transactions. Even limits on how many times a card can be used in a day or week can be set. These limits are set based on cost of the paperwork vs. dollars at risk in purchasing transactions. Most organizations set limits around $5,000 or less.
Purchases can be restricted to approved suppliers. Such restrictions reduce maverick buying, which refers to purchases made from suppliers who do not have an existing contract or are not approved. If purchases are not restricted to approved identified by SIC code) selling alcohol or chemicals may not be paid using the card.
There can be special procedures for purchases made over telephone, by fax or in person. Employees often times are asked to maintain a log of purchase information, such as items ordered, date ordered, order price and sales tax, if any. This adds to the paperwork, and there are wide variations regarding this control; many organizations do not ask for logs at all.
Goods or services, when received, should be confirmed by the person who ordered them. A few organizations may require additional confirmation from an independent person, though many organizations will not ask for it.
If the card is used in contravention of organizational policies and procedures, there is a standard investigation process. Disciplinary and legal policies are generally developed and, ideally, should be enforced.
A standardized reconciliation process is carried out at the end of the month, where purchases made are matched against payment.
There can be periodic audit of selected procurement cards or card transactions.
Procurement Card For Suppliers Vs. SRM Tools
Now that procurement cards have been discussed, a question on your mind may be: How procurement card compare to SRM Tools? SRM (Supplier Relations Management) tools deal with a gamut of supplier relations and, as such, must support procurement cards. Procurement cards issued to employees are handled much the same way as described earlier. A single invoice is received from the credit card company that is paid, and cash is credited. The detailed breakdown of accounts is provided in another file and that file is directly fed to the ERP system [if ERP system is installed]. If the breakdown is separately maintained and entered into the system, then summary totals of this breakdown and a single invoice from the credit card company are automatically reconciled. If there are any discrepancies, a report is routed to the manager specified in the workflow.
Procurement cards can even be used in strategic sourcing. But in this case, the procurement card is issued to the supplier, not to the employees. Controls over these cards are similar to those described for employee procurement cards previously.
The SRM tools, during the requisition phase, identify suppliers that have been assigned procurement cards. The procurement card information is provided on the resulting purchase order. In case of employee self-service, shopping carts are automatically flagged for procurement card payment based on pre-defined profiles of the supplier and employee. The supplier can charge payments on the procurement card instead of providing an invoice. If more than one purchase order is generated, the SRM software can consolidate these charges and direct those to the supplier.
At the end of the month or a specified period, the credit card company sends an electronic statement of purchases charged on the procurement card(s). Now purchase orders and purchases charged need to be reconciled, and that can be a time-consuming chore.
The SRM tools automate the process by generating what is called PO history feed. This history feed and electronic statements from the credit card company are matched and reconciled automatically. If the reconciliation does not have any exception, an invoice payable to the credit card company is created and forwarded to the accounts payable application of the ERP system.
The primary difference between employee and supplier procurement cards from an accounting viewpoint is generation of the PO.
You are invited to share here: Do you have more information about procurement card (P-Card), or any experience in using procurement card (P-Card)? Or, you may have some concerns about procurement card usage from the accounting financial and tax perspective? I would like to know from you. Please feel free to share your thoughts through the comment form below.
Are you looking for easy accounting tutorial? Established since 2007, Accounting-Financial-Tax.com hosts more than 1300 articles (still growing), and has helped millions accounting student, teacher, junior accountants and small business owners, worldwide.