Inventory Forms and Reports
This post contains three forms and seven reports related to the inventory function. Some of these forms, such as the receiving log and inventory tag, are used to track the physical existence of inventory. Others, such as the standard-to-actual cost comparison report and the standard cost changes report, are more concerned with the cost of inventory. It is useful to peruse this section and see if any of the forms and reports can be integrated into one's inventory operations. At a minimum, perhaps one's existing form or report formats can be altered to match the layouts provided here.
Note: You can learn to make very own form to suit your business's nature and needs:
Or, If you prefer to put your focus and energy on your business operation and management rather than making the form yourself from scratch, you can buy instant form made by professionals.
Receiving Log Report
If a company has a fully integrated computer system into which the receiving staff can directly enter all receipts, no forms will be required for goods in transit. If not, a "receiving log" will be used, such as the one shown below. The report may contain additional room for notations by the receiving staff, such as the condition of the items received.
The same information is commonly used in receiving reports, which are sorted either by date, supplier, part number, or part description.
Inventory Tag
A "physical inventory count" is usually taken by using a tag to be affixed to each lot. The tags are numbered serially in advance, and because a portion of the tag is left on the stock, it serves as a means of ensuring that all lots are counted. A sample "inventory tag" is shown below. This is a two-part tag, with the lower section being collected for summarization. Space is provided on the reverse side for noting movements so that slow-moving items can be counted in advance of the regular count.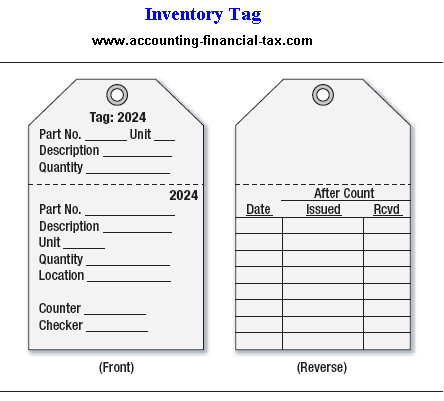 Inventory Cycle Counting Report
A cycle counting report is used by cycle counters to compare inventory records from the accounting database to physical counts in the warehouse. The sample report shown below is usually sorted by warehouse location code, so that counters can verify all items within a small area, which is the most efficient accounting method. The report has space on it to record physical inventory counts, although one can also write in any adjustments to part descriptions or units of measure as well.
Inventory Accuracy Report
Once cycle counting information has been collected, "accuracy levels" for each part of the inventory should be recorded on a trend line, preferably on a wall mounted display board. By doing so, management makes a statement that this information is extremely important and that it wishes to see improvement in the accuracy statistics. An example of an inventory accuracy report is shown below.
Inventory Sign-out and Return Report
Most inventories to be used on the production floor is kitted by the warehouse staff based on bills of material and issued on pallets to the production floor. However, if the amounts listed on the bill of materials is too low, more inventories will be requested from the warehouse. Alternately, if the bill of materials is too high, some inventory will be returned. More inventories may also be requested if parts are damaged on the production floor. When any of these issues arise, the warehouse staff should record all related transactions on an "inventory sign-out and return form", such as the one shown below. It is useful not only as a written record of transactions that must be entered into the inventory database, but also as a record of prospective adjustments to erroneous bills of material.
Scrap Or Rework Transaction Form
Production operations frequently result in either "scrapped inventory" or "inventory that must be reworked" in some manner before it can be completed. The accounting department needs to know as soon as scrap is created, so it can charge off the related cost to the cost of goods sold.
Many companies give the same treatment to items requiring rework, only reassigning a cost to them once they are fixed and sent back into production. The two-part form shown above can be filled out by the production or materials management staff whenever scrap or rework occurs, with one copy being attached to the inventory and the other being forwarded to accounting. The form is pre-numbered, in case the accounting staff wants to verify that all forms are submitted. If the "Scrapped" block is filled out, accounting charges off the inventory cost to the cost of goods sold. If the "Sent to Rework" block is filled out, accounting must also shift the related inventory to a rework inventory category in the inventory database, where it will stay until rework activities are completed. The form can later be sent to the production or engineering managers, in case they wish to review the reasons why scrap or rework occurred.
Standard To Actual Cost Comparison Report
When standard costs are used to create an inventory valuation, there will inevitably be some differences between "standard and actual costs" that will create variances that appear in the cost of goods sold. The report shown below itemizes these variances.
Standard Cost Changes Report
Standard costs will be altered from time to time in order to bring them more in line with actual costs. When this happens, it is useful to show the "changes on a repor"t, along with the reasons why costs were changed. If management is particularly sensitive about altering standard costs, one could also add a manager sign-off section to the report in order to record formal approval of the changes. An example of this report is shown below.
Excess Material Usage Report
More parts than are normally needed may be taken from stock to complete various items in production, which will unexpectedly reduce inventory levels and increase the cost of goods sold. Given its potentially large impact on inventory valuation, this issue may require a separate report, such as the one shown below. If "excess parts or material usage" continues over time, the report can also be used as proof of a need for changes to an item's underlying bill of materials.
Inventory Obsolescence Review Report
One of the easiest ways to detect obsolete inventory is to create a list of inventory items for which there has been no usage activity. The version shown below compares total inventory withdrawals to the amount on hand, which by itself may be sufficient information to conduct an obsolescence review. It also lists planned usage, which calls for information from an MRP system, and which informs one of any upcoming requirements that might keep one from otherwise disposing of an inventory item. An extended cost for each item is also listed, in order to give report users some idea of the write-off that might occur if an item is declared obsolete. In the exhibit, the subwoofer, speaker bracket, and wall bracket appear to be obsolete based on prior usage, but the planned use of more wall brackets would keep that item from being disposed of.
Are you looking for easy accounting tutorial? Established since 2007, Accounting-Financial-Tax.com hosts more than 1300 articles (still growing), and has helped millions accounting student, teacher, junior accountants and small business owners, worldwide.