Accounting and finance departments have always strived to improve the management of cash flows, reduce working capital and financing costs, track long-term indicators of solvency and contain transaction-processing costs.
However, the centralized accounting function, due to intra- and inter-enterprise collaboration and integration, is no longer centralized in many organizations.
Accounting processes are handled by different pieces of software, costs are not only internal but also spread across the supply chain and accounting information is contained not only in the general ledger but also is scattered in data, information and knowledge warehouses. These changes pose new challenges in dealing with old problems and offer new solutions for the same problems.
The financial supply chain, also referred to as financial value chain, is the new area emerging to deal with the new financial processes. This term has been around for at least a decade, though consultants and software vendors have put a new spin on it.
Now, the area of financial supply chain, similar to SCM, has multiple interpretations, multiple perspectives and no single departmental owner.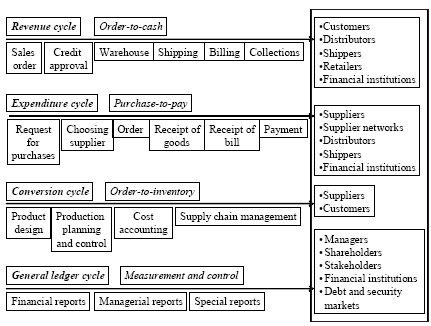 Aberdeen Group defines financial value chain as follows:
A range of B2B, trade-related, intra- and inter-enterprise, financial transaction-based functions and processes" (Best practices in streamlining the financial value chain, 2002, www.aberdeen.com). Killen & Associates Inc. categorizes all the services provided by financial supply chain into three categories: "performance measurement and control, decision support and transaction processing (Optimizing the financial supply chain, 2002, www.killen.com).
SAP, on the other hand, includes: order-to-cash, purchase-to-pay, bank processes and relationship management, and cash management (mySAP Financials: Next generation integration, 2003, www.sap.com) as four processes in the financial supply chain management.
These definitions evidently cover all aspects of accounting and finance. Functionalities explored, from the revenue cycle to treasury functions seen in the last section, fall under the gamut of financial supply chain. Problems encountered by accounting departments in identifying costs, let alone controlling those costs, are formidable. Illustrative internal problems include disparate ERP systems, lack of consolidation and budgeting software, patchwork of add-on modules and absence of an organizational strategy. External problems may include establishing relationships with suppliers and customers, banking relationships, lack of access to real-time data and managing funds in an uncertain external environment. A number of these problems were reviewed earlier in the book. Financial supply chain management tools are available, though a concerted strategy to employ those tools for optimizing financial supply chain is missing in most organizations.
Aberdeen Group forecasts that optimization of financial supply chain can result in substantial savings. The savings forecasts for a billion-dollar company are as follows:
Reduction in working capital by 20% to 25%
Reduction in financing costs by $4 million per year
Proactive warnings for delayed receivables and reduction in Days Sales Outstanding (DSOs)
Approximately $13 million savings from transaction processing costs
According to another estimate, the cost to finance products moving through the supply chain is approximately $360 billion, or 4% GDP. If these forecasts are correct, then major corporations can achieve billions of dollars in savings by optimizing financial supply chain. But, how does a corporation optimize the financial supply chain?
Solutions offered by consultants and software vendors primarily revolve around the new tools seen so far. Suggested tools can be classified into three categories: ERP systems to integrate internal functions, Web-based tools to facilitate free flow of information with trading partners, and hybrid tools that use functionalities of ERP and the Internet.
Due to the convergence of software tools, no distinction in these categories was made in this post. However, most of the tools and software that we have seen is from the second and third category. A summary of these tools for each cycle is provided:
(a). Revenue Cycle
CRM
Online credit check
Web-enabled WMS for order fulfillment
Web-based tracking of shipments
Electronic invoice (bill) presentment and payment
Online management of receivables
Web-based cash collection and payment methods
(2). Expenditure Cycle
SRM tools
Procurement cards
Employee self-service features
Online management of expenses
Online management of assets
(3). Conversion Cycle
Supply chain planning tools
Supply chain execution tools
Supply chain collaboration tools
Supply chain coordination tools
(4). General Ledger Cycle
Technical and managerial requirements for virtual close
BI tools
Planning and budgeting solutions
Enterprise portals
(5). Treasury Functions
Cash and liquidity management tools
Debt and investment management tools
Risk evaluation tools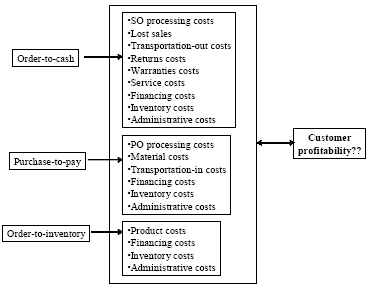 Financial supply chain management aims to reduce costs in financial management, transaction processing and financial reporting. Financial supply chain is optimized by automating, outsourcing Web enabling and rationalizing financial workflows and business processes. The tools to achieve these objectives are available. However, the cost effectiveness and efficacy of these tools is not proven. The optimal investment in information technology for financial supply chain management is a difficult question to answer, and the answers are probably unique for each organization. It seems that consultants and software vendors will thrive in this area for a while!
Are you looking for easy accounting tutorial? Established since 2007, Accounting-Financial-Tax.com hosts more than 1300 articles (still growing), and has helped millions accounting student, teacher, junior accountants and small business owners, worldwide.