Understanding The SAP CRM Tools
CRM is a complex topic and intersects with marketing, sales, service, finance and logistics departments; additionally, it has a strong strategic component, requiring involvement of top management. The components of CRM software are examined to understand CRM functionalities.
CRM packages consist of a constellation of modules and are connected with the base ERP or back-end accounting system. All of the leading ERP vendors offer CRM tools, and numerous software vendors sell CRM tools for organizations of all sizes, Siebel Corporation being the market leader in this segment. SAP and Oracle tools are primarily used on this post onward, though different software suites are used when appropriate.
SAP provides all its e-business solutions on a platform called "mySAP.com". The list of e-business solutions is lengthy and continues to expand as SAP brings forth more functionality under this umbrella. The suite of CRM tools falls under this platform and gives a good idea regarding existing state of the art in this area. Following is a bare-bones description of a very complex software suite.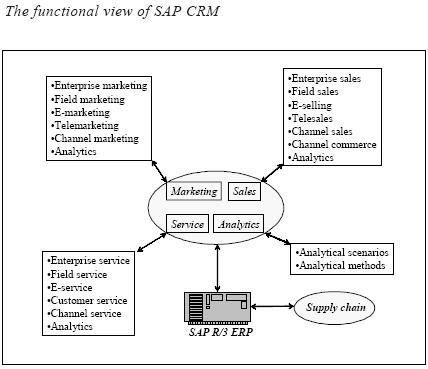 SAP CRM tools manage four different customer-centric functions: marketing, sales, services and customer analytics. This is a functional view of SAP CRM capabilities. This review highlights reach of the CRM tools in customer-related function, covers a lot of marketing ground and contains a number of marketing buzzwords and jargon. The description here, though, focuses on a high-level review of CRM functionalities. The marketing function in the SAP CRM is supposed to support the entire marketing cycle, from planning to analytics. The capabilities of the marketing function are illustrated below.
Enterprise marketing: Marketing efforts across the enterprise can be managed using Enterprise Marketing. Specific marketing activities supported are marketing planning, marketing budgeting, product management, customer segmentation, trade promotion management, campaign management, lead management and personalization of marketing efforts.

Field marketing: These capabilities are similar to enterprise marketing, though these are aimed at marketing initiatives at the regional or field level.

E-marketing: Marketing campaigns over the Internet are enabled here. Capabilities include catalog management, content management, personalization, one-toone marketing and customer segmentation.

Telemarketing: Telemarketing capabilities using call lists and interactive scripts are enabled in this function.

Channel marketing: Marketing efforts can be coordinated with channel partners by providing relevant information, consistent branding, appropriate incentives and measurement tools. Sales functionalities are geared toward sales teams. The idea is to establish a consistent sales process that supports sales activities. Functionalities are described below.

Enterprise sales: Features include integrated sales planning and forecasting, account and contact management, opportunity and pipeline management, sales methodology analyzer, task and activity management, incentives and commissions management, sales order management, quotations and contracts, logistics management and analytics.

Field sales: These capabilities are similar to enterprise sales, though these are aimed at marketing initiatives at the regional or field level.

E-selling: Using the Internet to establish Web fronts and support Web-based sales activities is supported here.

Telesales: Features here include lead management, pipeline and opportunity management, call scripting and prompts, call lists, Web chat, e-mail response, voice call back, sales order management, and quotations and contracts.

Channel sales: Capabilities are similar to enterprise sales, but these are available to channel partners.

Channel commerce: Features include virtual showroom, distributed catalog and content management, distributed order and inventory management, hosted order management and hosted partner sites, which enable collaborative sales activities with the partners. Service is an important component of CRM. Service activities span a spectrum from planning to actual delivery of services, and need comprehensive software tools for management. The illustrative functionalities of service function are given below.

Enterprise service: Service efforts across the enterprise can be managed using enterprise service. Specific service activities supported are service planning and forecasting, customer service and support, resource planning and optimization, knowledge management, installed base management, service order management and professional services.

Field services: Capabilities are similar to enterprise service, and are aimed at service initiatives at the regional or field level.

E-service: These capabilities can be used by customers to track orders, access Frequently Asked Questions (FAQs) and knowledge bases, and self-service. Features include parts catalog, knowledge management, request management, live customer assistance, account self-service, installed base management, complaints and returns management, and billing and payment.

Customer service: Features include help desk, customer service and support, and complaint management. These can be used to manage customer contracts and complaint resolutions from a central place.

Channel service: Capabilities are similar to enterprise service, but these are available to channel partners.
SAP CRM Analytics
Analytics in the SAP CRM consist of analytical scenarios and analytical methods. The analytics do not only include performance measures but also optimization and planning tools. Analytical scenarios provide customer analytics, product analytics, marketing analytics, sales analytics, service analytics and interaction-channel analytics. These different measures come as pre-packaged solutions, and customized measures, if required, can be developed. Analytical methods, on the other hand, are a collection of tools and methodologies that can be used for performance measurement, trend prediction and optimization of customer relationships. The analytics component is common to all functions and can be used in marketing, sales and service functions.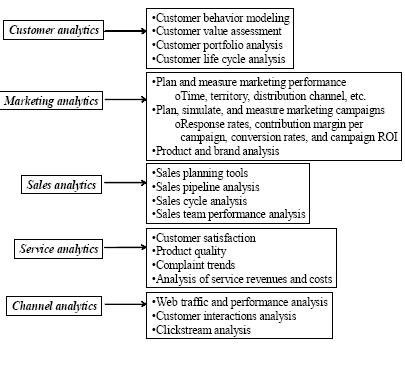 SAP CRM software modules operate on top of an ERP system in a symbiotic fashion. The leading vendors claim that their CRM tools will run on top of any ERP system. However, the practical difficulties of integrating systems from different vendors can be formidable, and should be kept in mind while evaluating these claims. CRM modules offered by SAP include the following components: business information warehouse, knowledge warehouse, exchange infrastructure, enterprise portal, field applications, e-commerce, interaction center and channel management.
First, let us look at the modules that enable CRM; these include business information warehouse, knowledge warehouse, exchange infrastructure and enterprise portal. These tools are used to support a variety of business processes and are not specific to CRM. These software modules are described here in the context of the CRM process. SAP Business Information Warehouse collects business data from the underlying ERP system. If the business uses modules from multiple ERP systems, then the business information warehouse module can be programmed to interface with those systems and collect required data. This module is optimized for the SAP ERP system, though not limited to it, and is a combination of database and database management tools.
For example: in the context of CRM, this warehouse contains sales- and payments-related transaction data, sales- and service-call activity, key customer contacts and details of product sales. This data is available to sales, service and call-center personnel. Moreover, data can be questioned using query languages, downloaded to spreadsheets or used to generate reports with in-built reporting tools. Business information can be mined to derive key performance indicators, capture comments made by teams working collaboratively, and develop special alerts; for example, a drop of more than 5% in sales to an important customer would result in an alert to a specified sales manager.
The purpose of the knowledge warehouse is to store, organize, process and disseminate knowledge. This warehouse can contain business rules, best practices, business process information, and even decision support systems. Data can be in text or multimedia format. This module can also be used to create a training and documentation database. This enterprise-wide database can be used to cut down on the learning curve and training costs. Another building block of CRM tools is SAP exchange infrastructure.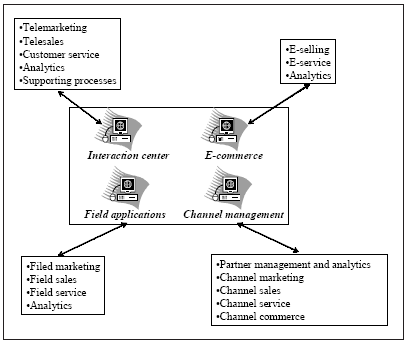 This exchange infrastructure supports different standards such as XML, Web Services Description Language (WSDL) and Simple Object Access Protocol (SOAP), along with different communication protocols. The objective is to enable collaborative business processes by cutting across various systems and protocols used within the organization. In the absence of such support, the costs of integrating different systems may become prohibitive.
The final base component is SAP enterprise portal, which provides a consistent navigation environment for corporate users. The ERP system can be run on mainframes, minis or microcomputers, and on a variety of operating systems. Thus, a typical organization — even if hosting an SAP ERP system — is likely to have numerous user interfaces. The enterprise portal integrates applications, data and metadata, and Internet information. This integrated information can then be used to provide reports as specified by users or can be shared across the organization. This module is used in what SAP calls financial insight, procurement insight and sale insight, which are essentially pre- packaged business intelligence tools. Enterprise portals and business intelligence tools are discussed in depth in the general ledger cycle.
The integrated software modules that enable CRM functionalities are interactive center, e-commerce, field applications and channel management. The interaction center module handles contacts with customers; for example: telemarketing, telesales, customer service and interaction analytics. The E-commerce module enables e-marketing, e-selling and Web analytics. The field applications module supports field activities such as field marketing, field sales and field service. The channel management module handles all channel partner-related functions such as channel marketing, channel sales, channel service and channel commerce. These functionalities have already been discussed. To reiterate, the preceding information is a bare outline of an extremely complex software suite.
The demands on CRM tools are enormous, and these demands vary in different businesses and industries. As such, it is not surprising that software supporting these business processes is also large and complicated. In addition, the functionalities, jargon and supporting technologies are exponentially expanding as CRM matures. There can be practical problems in implementing such a package. The successes and failures of CRM initiatives are being researched; though the conclusions are still in their infancy.
Are you looking for easy accounting tutorial? Established since 2007, Accounting-Financial-Tax.com hosts more than 1300 articles (still growing), and has helped millions accounting student, teacher, junior accountants and small business owners, worldwide.