Purchase Order Software – Gratis
Purchase Order – practical software to help with writing purchase orders. If your business uses purchase orders, but you have not been able to find a good piece of software to help with it, try this out! Purchase Order software is an affordable, multi-user solution for small and medium size companies that handle their equipment, material, and other purchases via purchase order. If you've been wanting to get away from using re-printed forms but haven't been able to find any reasonably priced purchasing software, this is the answer. Itulah short description dari Purchase Order software ini.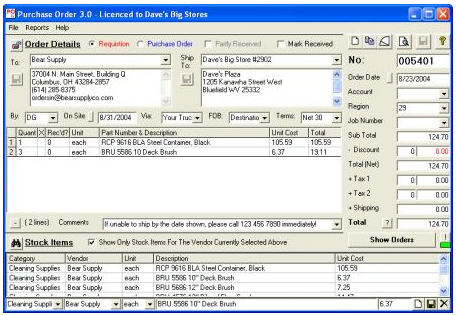 Reasons may make you give a try to this software
Seperti yang saya janjikan di posting saya sebelumnya (Purchase Order – PO), sekarang saya mau share satu software "Purchase Order" (bisa disebut modul) yang istilahnya "stand alone", bisa bekerja sendiri tanpa harus terintegrasi dengan accounting software tertentu. Software ini saya post khusus untuk membantu rekan-rekan member yang masih menggunakan spreadsheet di dalam membuat, menerbitkan dan mengarsipkan purchase order. Saya mengerti mungkin anda belum pernah mengoperasikan accounting software sebelumnya, tetapi jangan khawatir sifat "standalone" purchase order software ini membuat pengoperasiannya menjadi lebih mudah untuk dipelajari oleh pemula sekalipun, karena tidak harus berpikir mengenai pengaruhnya dari dan terhadap account lain. Dan PO ledger menjadi lebih organized, menghasilkan PO template yang lebih professional, dan bagusnya lagi software ini telah dilengkapi oleh built-in email utility sehingga PO bisa dikirimkan dari panel viewer tanpa harus export data ke excel terlebih dahulu, jika anda ingin meng-export data dari software ini ke excel atau notepad untuk keperluan lain, tentu saja itu juga bisa dilakukan.
Best Practice Tips
Pre-installation:
Setelah anda download, bukalah dengan win-rar atau izarc atau pembuka zip lain yang mensupport file ber-ekstensi "rar" (jika belum punya winrar atau izarc, bis adi download di blog saya yang lama). Setelah terbuka, scan folder yang telah terbuka dengan antivirus, hingga file dinyatakan bebas virus. File software ini tersimpan di "shared-public host", so sangat mungkin terinfeksi oleh virus. Jika anda tidak yakin, sebaiknya di delete saja atau jangan download sama sekali.
After installation:
Jika anda memutuskan untuk install purchase order software ini di computer anda, untuk penggunaan pertama, lakukanlah trial (percobaan) untuk set-up vendor, input PO sampai print atau export atau langsung email, hingga anda merasa yakin untuk menggunakannya, jika sudah yakin, mintalah persetujuan dari atasan. Jika sudah disetujui, maka anda sudah bisa mulai memakainya selama satu minggu atau satu bulan, jika selama satu bulan digunakan system masih stabil, maka, mungkin anda sudah bisa menggunakannya secara penuh.
Disclaimer
Author maupun situs ini samasekali tidak memiliki kaitan dalam bentuk apapun dengan developer software ini. Link yang disediakan maupun isinya disediakan disini semata-mata hanya untuk semangat berbagi (sharing), untuk itu link download maupun software ini disediakan di sini dengan kondisi "as is", artinya author maupun situs ini tidak akan menyediakan support, tidak melayani complain dan tidak mengambil tanggung jawab apapun untuk maksud apapun juga. Jika software ini memang bermanfaat maka nikmatilah, jika kurang bermanfaat saya minta maaf belum bisa menyediakan freebies yang lebih bagus lagi, jika ada resiko yang timbul, maka itu adalah sebuah konsekwensi realistis dari kondisi "as is" yang saya sebutkan.
Tentu saja saya menerima segala masukan kritikan, maupun pendapat, pertanyaan atau pengalaman sehubungan dengan topic ini. Untuk itu silahkan di tulis di ruang komentar di ujung halaman ini (setelah main features).
Main Features
Allows you to build a database of all the items you normally buy. Including part numbers, description, unit of measure, unit cost, and vendor. Simply double-click any item and it is instantly added to your purchase order. Items can be added easily, so you can start being productive right away.
Stock Items or all items of vendors when working on an order, you may elect to see only stock items for the selected vendor, or all items.
Multiple requisitions may be combined together to create bulk orders – save money by getting quantity discounts.
One-time items can be added to an order plus stock items can be modified after being selected, without changing them in the stock list.
Stores all your vendor and destination addresses for re-use. You only need to type them in one time; from then on out you simply select from a drop-down list. If you are using our "ShareCon" name & address program, Purchase Order will even import your existing vendor & destination info! It also automatically stores misc. info such as payment terms, authorization names, FOB points, job numbers, and more in easy to use drop-down lists.
Saved purchase, re-print or even copy later. Saved purchase orders can always be recalled later on for re-printing, general reference, or to be copied and used as the basis for similar new orders. The saved order list can be sorted by PO number, job number, date, vendor, destination, ship date, or amount with one mouse click; no more rooting through file cabinets to find things.
Customize the appearance or orders by changing the font, an/or adding your own company logo graphic.
Export basic order data to .CSV format: You can export basic order data to .CSV format for use in spreadsheet programs such as Excel.
Email orders directly from the program's viewer: using an internal email utility which does a beautiful job of sending documents with graphics included, right in the message body that your recipients will see. No more attached files.
Individual or share it: Purchase Order can either be installed on a single machine and store it's data locally, or installed on multiple machines and use a shared data directory.
Three User Level: Prevent unauthorized changes by the use of three "user levels" and an order locking function.
Download Purchase Order Software
|Purchase Order Software|
|6,95 MB|
Are you looking for easy accounting tutorial? Established since 2007, Accounting-Financial-Tax.com hosts more than 1300 articles (still growing), and has helped millions accounting student, teacher, junior accountants and small business owners, worldwide.