Cut your "Casual-Communication" Cost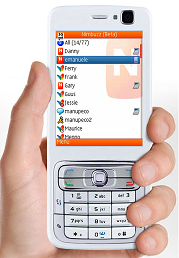 Cost cutting is never been looser anywhere. Companies, persons keep figuring way out for cost cutting enhancement. One of our most high costs in a modern life era is mobile carrying and incremental cost. Things that we realize as a casual communication like short message services, chatting, and mobile call most likely part of our daily activities where uncontrolled cost occurred. A good news from Nimbuzz, it offers an all-in-one free solution for mobile phones, PCs and on the web for calling, conference calling, instant messaging, group chats, chat rooms, and photo and file sharing across multiple IM communities.
Nimbuzz ini mengintegrasikan "IM protocols" di satu tempat dan bagusnya adalah "free". Users nimbuzz akan memperoleh support untuk: AIM, MSN, Yahoo!, Gtalk, Jabber, ICQ bahkan Skype. Nimbuzz software maupun layanan IM dan Text Message Service, kedua-duanya gratis. Bisa dibilang completely free solution untuk aktifitas jenis ini. PC voice calls (dari nimbuzz ke PC) gratis, tetapi mungki akan melalui router cellular si pemakai (tidak seperti true VOIP calls).
You may want to ask "how about mobile calls?"
Saya pertama kali tahu juga spontan berpikir, apakah mobile call dari nimbuzz ke any mobile number gratis juga?, jawabannya…. developernya mengatakan:
Tidak gratis, tetapi cukup bersaing, karena anda hanya akan kena biaya komunikasi local.
Artinya pulsa anda akan berkurang seperti menggunakan PSTN ke PSTN, hanya saja rate-nya adalah local rate, tidak peduli dari mana dan kemana anda menelpon.
Ini akan kami perbaiki segera, saat kami sudah release Mobile VOIP Solution, maka telpon kemanapun darimanapun akan gratis.
nimbuzz menambahkan
The next question…..
Is my handphone compatible for it?
Apakah nimbuzz ini sesuai untuk HP saya? Menurut developernya, perangkat ini bisa bekerja pada semua jenis HP yang memungkinkan untuk melakukan koneksi internet dari HP, entah operating systemnya berbasis java, symbian, apalagi windows mobile, pasti bisa. Mereka mengatakan:
The good news is that we currently support more than 22 brands and over 500 models and we are constantly adding support for new models

 
How to install it into my mobile?
Sama saja dengan aplikasi mobile lainnya, anda perlu PC suite, atau anda bisa brows nimbuzz dari HP anda lalu download dari sana.
Final question thought……
How and where to download the software?
Ada 3 pilihan download:
[1]. Nimbuzz Mobile (Download dan install di mobile/HP anda saja):
Jika ini yang anda pilih, maka anda akan memperoleh feature-feature berikut ini: Call Chat Chatrooms/Groupchat Text messaging Share photos, music, video Send voice messages Manage address book Set status Buzz (get friends online).
[2]. Nimbuzz PC (download dan install nimbuzz di PC anda):
Jika ini yang anda pilih, maka anda akan memperoleh feature-feature berikut ini: Call (with superior quality) Chat/Chatrooms/Groupchat Text messaging Set status Buzz (get friends online) from or to your PC.
[3]. Nimbuzz Communicator (Download widget dan install di friendster, Myspace, atau situs, blog anda atau desktop anda).
Jika ini yang anda pilih,maka anda akan memperoleh feature: Call, chat for free Voice messaging Share photos, music, video Text messaging Buzz (get friends online)
Ketiga pilihan download di atas, bisa and adownload di sini: ||Download||
Jika masih ada pertanyaan-pertanyaan lainnya, bisa and akunjungi ke official web mereka di [http://www.nimbuzz,com], lalu masuk ke menu "FAQ" nya. Jawabannya ada di sana semua.
Disclaimer
We declare that author and this site have no direct neither indirect relationship with the developer in any term. Author maupun situs ini tidak ada hubungan apapun dengan developer, tidak dalam bentuk apapun juga. Ini ditampilkan di situs ini semata-mata untuk maksud sharing dengan member maupun visitor untuk sesuatu yang saya nggap mungkin bermanfaat, dan yang paling penting adalah "at no cost" alias "gratis".
Hmmm…sepertinya solusi komunikasi yang cukup menarik, well at least semua IM protocol telah terintegrasi di satu tempat, PC call gratis, dan mobile call sudah local rate charge. Saya rasa ini sudah lumayan bagus, sambil menunggu VOIP Mobile Solution mereka release. Lumayan bisa cut sedikit mobile communication cost kita 🙂 Nah yang tertarik, silahkan dicoba.
Are you looking for easy accounting tutorial? Established since 2007, Accounting-Financial-Tax.com hosts more than 1300 articles (still growing), and has helped millions accounting student, teacher, junior accountants and small business owners, worldwide.