9 Accounting Software Module Checklist 2008
Since I posted "How To Choose The Right Accounting Software/System", many of you've been requesting for information about "what module is available and what is not available of any popular accounting software". I do agree with everyone how accounting software is essential for businesses. There are about as many software packages for accounting as there are types of businesses and determining which one best meets the needs of your company can be a tricky transaction. We also know that every accounting software developers (or sellers) say as if theirs are the most powerful and complete one in feature. In other hand, we read huge of upset expressions from their users. Either about the security lacks, Terrible of support, un-flexible feature, poor of module/feature.
As a user, I have experienced on worst-fair-best one, I do know how accounting and financial should work for businesses and how to make them so. But I am not a software expert, it's hard to know which accounting software is the best fit for any specific business's need, so I haven't done any accounting software review yet, that is the first reason. Second reason, reviews could become part of marketing strategy of the developer now days. And I haven't intended to become a re-seller or referrer of any product yet 🙂
What To Look For in An Accounting Software?
My personal opinion these are accounting software criteria I look for:
Ease of Use
I look for accounting and finance software that is simple to install, set up, and understand. The best accounting programs make navigating intuitive, so I never have to guess where you are or what to do next.
Accounting Modules
Accounting modules are categories required to successfully maintain my business finances (such as Accounts Payable and Accounts Receivable). Does the accounting software have all the basic accounting modules I will' need? All the whistles of the software are not relevant IF THE BASIC ARE NOT COVERED.
Flexibility and Adaptability to The Business Grow
I look for accounting software that lets me grow and customize my system to fit my individual business needs.
Reporting Categories
I consider accounting software that offers a wide range of reports. I should be able to print at least one kind of report for every module. Reporting features are often built into each section, but it's better if I can create reports from anywhere in the program.
Customizable Reports Save My Time
I look for accounting software that will let me set my own criteria. With detailed financial reporting, I can analyze what is and isn't working for my business.
Help Documentation
I look for email and phone support; toll-free phone and live support, online help is a bonus.
Online
I look for indexed help topics that can be searched easily. I want quick access for both technical help and accounting help for my software. Accounting software companies should have qualified people (both technicians and accountants) answering these tough questions.
Accounting Software Module Check List
If you ask me: what is my most concern among those criteria? My answer is: The feature and its flexibility to adapt with my business grow. Let's say I haven't sell product/services with online credit card settlement feature yet, so I haven't need it yet for now, but I realize that my business is on the way to the same direction sooner or later. So, any accounting software provides richest module will impress me much. Additinal Feature will be the next watch eventhough it may charged separately.
Here I bring 9 Accounting Software Module Checklist that may useful for you.
Banking/Checking Account Module
Account Receivable Module
Account Payable Module
Inventory Module
Job Costing Module
Time Billing Module
Payroll/Employee Module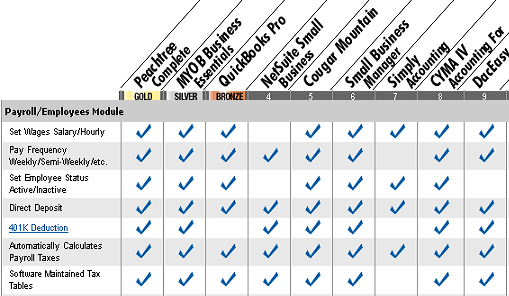 Additional Feature Services
Miscellaneous Features
Support and Help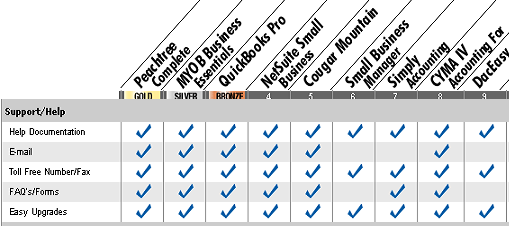 Compatibility (supported configuration)
Disclaimer
Do I recommend one of the 9 accounting software? NO.
Do I use any of the 9 accounting software? NO.
Do I have any affiliation or any other term of relationship with any of those developers? NO.
Why? Because I present this information for the member and visitor's basic knowledge and for their benefit only, it's never intended for any other purposes.
Be wise and be smart when you attempt to choose any of accounting software in the market. It is always a good idea to bring all the management members for the initial overview of the accounting software you are going to purchase, as it's for the departments, levels and activities of your organization. Unless if it's intended for personal use only.
Are you looking for easy accounting tutorial? Established since 2007, Accounting-Financial-Tax.com hosts more than 1300 articles (still growing), and has helped millions accounting student, teacher, junior accountants and small business owners, worldwide.